The Schwartz Center at a Glance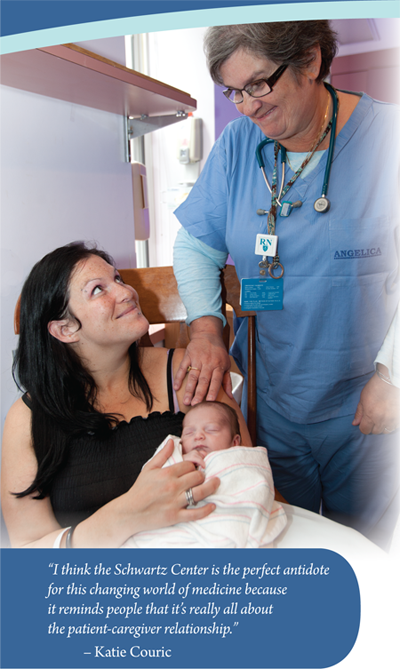 The Schwartz Center for Compassionate Healthcare is the only national nonprofit dedicated to nurturing patient-caregiver relationships to strengthen the human connection at the heart of healthcare. Research shows that when caregivers are more compassionate, patients do better and caregivers rediscover their passion for healing. The Center believes in a strong patient-caregiver relationship characterized by effective communication, emotional support, mutual trust and respect, and the involvement of families in healthcare decisions is fundamental to high-quality healthcare.
Our Mission
Our mission is to support and advance compassionate healthcare in which caregivers, patients and their families relate to one another in a way that provides hope to the patient, support to the caregivers, and sustenance to the healing process.
The Center reflects the vision of Ken Schwartz, a Boston healthcare attorney who died of lung cancer at the age of 40 and found that what mattered to him most as a patient were the simple acts of kindness from his caregivers, which he said made "the unbearable bearable." He founded the Schwartz Center in 1995 to ensure that all patients are treated with compassion. The Center is housed at Massachusetts General Hospital in Boston, where Ken received his care.
Making Compassionate Care a Priority
The Schwartz Center is bringing together patients, caregivers, policymakers, educators and researchers to make compassionate care a national healthcare priority. The Center's goal is to ensure that compassionate care is a fundamental element in the design of health systems, the provision of care, the measurement of quality and outcomes, and the education of all healthcare professionals.
Why Compassionate Care Matters
Compassionate care is fundamental to the practice of all healthcare professions. It is characterized by effective communication and emotional support, mutual trust and respect, and involving patients and families in healthcare decisions. At its core, it means treating patients as people. A growing body of research demonstrates that compassionate care is critical to quality healthcare. Compassionate care has been associated with:
Improved health outcomes
Reduced healthcare expenditures
Increased patient satisfaction
Better adherence to treatment recommendations
Fewer medical errors and malpractice claims
Schwartz Rounds™
The Center's signature program, Schwartz Rounds™, allows doctors, nurses and other caregivers to come together on a regular basis to discuss the most challenging emotional and social issues they face in caring for patients and families. An independent evaluation has found that regular participation in Rounds promotes compassionate care, improves teamwork, and reduces caregiver stress and isolation. The program has also led to the adoption of more patient-centered healthcare practices and policies in many healthcare organizations.
National Compassionate Caregiver of the Year (NCCY) Award
This award is given annually to a caregiver who displays extraordinary compassion in caring for patients and families. The winner receives a cash prize of $5,000, and five finalists receive $1,000 each. All six are honored at the Kenneth B. Schwartz Compassionate Healthcare Dinner in Boston, one of the largest healthcare events in New England. Since the program began, more than 1,400 caregivers have been nominated for this prestigious award and 80 have been honored.
Honor Your Caregiver
Through this program, grateful patients have the opportunity to honor their caregivers by making a contribution to the Schwartz Center in their names. The Schwartz Center sends caregivers a certificate on the donor's behalf honoring them as a compassionate caregiver. Caregivers' names are then added to the Compassionate Caregiver Honor Roll on the Schwartz Center's website. More than 1,500 caregivers have been honored since the program began.
Schwartz Center Grants
Since 1997, the Schwartz Center has awarded more than $2 million in grants to nonprofit organizations throughout the U.S. to fund innovative projects that strengthen patient-caregiver relationships in the areas of communication, cultural competency, spirituality and end-of-life care. The Center has awarded more than $100,000 in grants to support projects to improve communication around end-of-life care.
Educational Programs and Events
Each year, the Schwartz Center offers educational programs and events to raise public awareness of the importance of compassionate care:
Compassion in Action Symposium Series: Boston (April)
Compassion in Action Symposium Series: New York (June)
Boston Celebration of Women in Healthcare (May)
Boston Thought Leadership Breakfast (October)
Kenneth B. Schwartz Compassionate Healthcare Dinner (November)
Compassion in Action webinars (ongoing)
Funding the Mission: Your Dollars at Work
Revenue, net $3M
Expenses, net $3.2M
---
Financial Highlights
Philanthropy remains the primary source of revenue for the Schwartz Center. Our healthcare membership program, now in its second year of generating income, has grown to 19% of total net revenue.
During Fiscal Year 2015, 73% of all spending was directed to mission-specific programming. Fundraising and administrative costs represent the remainder. Philanthropy underwrote 83% of Schwartz Center healthcare membership expenses.
Our program investments for Fiscal Year 2015 resulted in a planned deficit of $240K, which was funded through capital campaign revenue and was significantly less than the planned deficit of $420K.
---
Read Our 2015 Annual Report
Read about our most recent accomplishments in our 2015 online annual report, including the progress we are making in the areas of thought leadership, programs, grants and more.
The Schwartz Center is an autonomous, nonprofit organization operating under the 501(c)(3) tax-exempt status of the Massachusetts General Hospital. Its independent Board of Directors has complete discretion over the Center's budget. The Schwartz Center relies on tax-deductible charitable contributions from foundations, corporations and individuals to carry out its work.