Office Hours webinars provide a platform for members to learn about membership and the Schwartz Rounds® program. Schwartz Center experts and invited guests share their experience, answer questions and offer insights and recommendations. Topics are focused on practical steps that participants can implement to support their Schwartz Center programs. The webinars are open to Schwartz Center healthcare members only.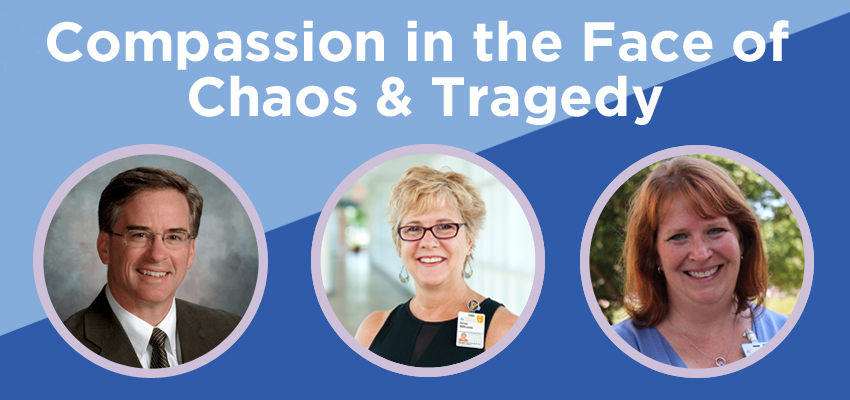 "Compassion in the Face of Chaos & Tragedy: How UVA Used Schwartz Rounds® to Respond to the Events of August 12, 2017"
Thursday, Nov. 2, 2017
3:00 – 4:00 pm ET
At a time when it seems we wake up to news of another devastating crisis or tragedy every morning, caregivers are on the front lines of caring for those affected by such events – often suffering great trauma themselves in the course of doing so. In this special Office Hours webinar, we'll hear from the Schwartz Rounds team at UVA about how they planned and facilitated a Schwartz Rounds in the aftermath of the violence in Charlottesville in August 2017, and how the session helped hospital staff process their experiences as individuals and as a community. This webinar will be moderated by Beth Lown, MD, the Schwartz Center's Medical Director, who led a series of Schwartz Rounds at Boston-area hospitals in 2013 and 2014 in the wake of the Boston Marathon bombing.
Featured Speakers:
Julie Haizlip, MD, MAPP, Clinical Professor of Nursing and Pediatrics, Director of the UVA Center for Appreciative Practice. She helped bring Schwartz Rounds to UVA and served as the Physician Lead for five years.
Tim Short, MD, Associate Professor in Palliative Medicine at UVA. He currently serves as the clinical lead for Schwartz Rounds.
Anne Williams, MA, Manager of Organizational Learning and Development for UVA's School of Medicine. She helped bring Schwartz Rounds to UVA and has served as the Facilitator since the program's inception.
Registration for this webinar is now closed. Schwartz Center healthcare members can login in to the Member Community website next week to view the recorded session.
"The webinar really hit on all the points that we are having issues with. I picked up a few ideas which made the experience worthwhile. It was also very good for our new planning committee members."

-Member testimonial