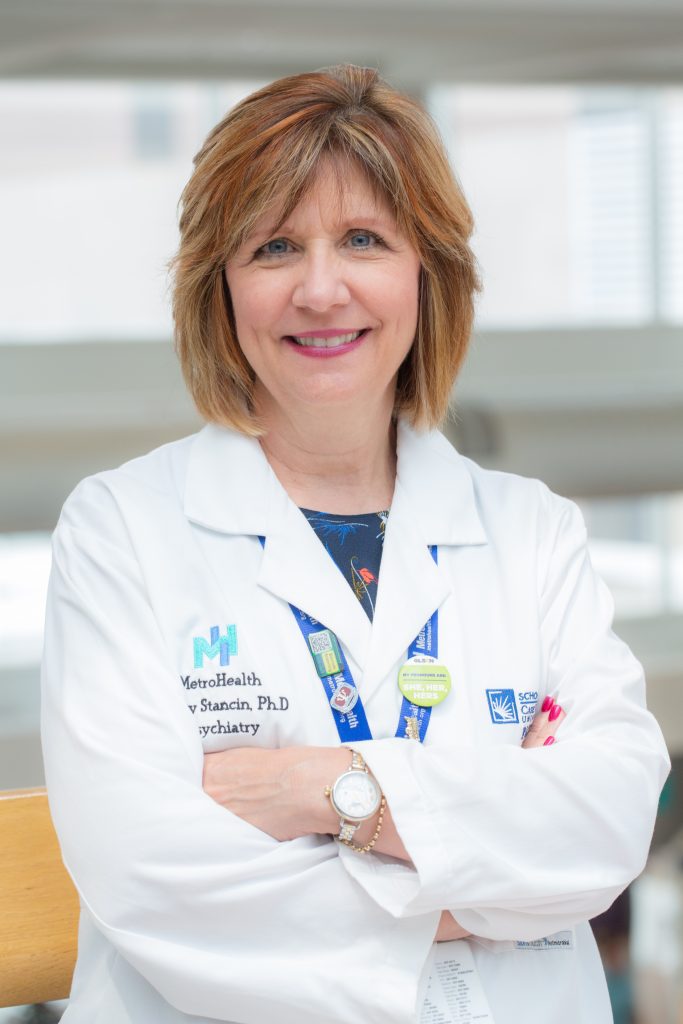 Terry Stancin, PhD, ABPP
The MetroHealth System
A decade ago, Terry Stancin, PhD, ABPP, got a call from a physician colleague who had recently opened a clinic serving LGBT adults. He had encountered a gender non-conforming pediatric patient and admitted to Terry that he didn't know quite what to do. Terry, who describes herself as a bit of an "improv psychologist," didn't really know either, so she went on to learn.
Terry is a clinical psychologist and director of child and adolescent psychiatry and psychology at a county safety net medical center who has devoted herself to providing the highest quality, empathic healthcare to some of the most at-risk kids, for more than three decades.
Starting with that one conversation and through the care of that one patient, Terry saw a gap in the care of some of the most vulnerable kids and she jumped right in.
As many as forty percent of children with gender dysphoria will attempt suicide before they turn 20. They endure profound physical and mental distress, brutal cultural stigma and significant legal and societal barriers to care. In the face of this grim outlook, Terry helped launch MetroHealth's multidisciplinary Kidz Pride Clinic, one of the first in the nation dedicated to the unique medical and mental health needs of lesbian, gay, bisexual, transgender and questioning youth.
Families arriving at Kidz Pride are often in crisis and in need of compassion.Terry is there to welcome them. In one case, the mother of a 9-year-old transgender boy recalled meeting Terry for the first time. "We walked in the door not knowing what to do, where to go or how to go forward. We knew our kid needed something we couldn't provide. We didn't know what to do. Dr. Stancin did," the woman said.
"There must always be outstretched hands within a suffering child's reach," says Dr. Stancin.
Since it opened in 2008, the clinic has served hundreds of children, many traveling to Cleveland from hours away. The Kidz Pride Clinic is just one example of the legacy of compassion that Terry has built during her 32-year career. In addition to her stirring clinical work, she has focused on providing better mental health services to children, especially disadvantaged children, who make up much of MetroHealth's patient population and who are often in the most need of services because of exposure to trauma, poverty, adverse life events, economic limitations and more.
Terry helped facilitate an expansion of Cuyahoga County's foster care program so kids now receive mental health evaluations and services as part of a medical home. Services for Spanish-speaking families and a dedicated program for young patients with autism also are available, thanks to Terry's work.
MetroHealth's School Health Program now has mental health professionals available for consultation in Cleveland Public Schools, thanks to Terry, so kids can access these important services during their school day.
She launched a nationally recognized integrated-care program that puts behavioral-health professionals and psychology interns directly into pediatricians' offices, allowing patients and families to access mental-health services even if they are coming in simply for a check-up or because of a cough or fever.
And when a school shooting shocked the community of Chardon, Ohio, in 2012, Terry led a team of mental health providers who cared for students and families and who provided in-school interventions for two years afterward.
The list chronicling Terry's impact is long.
She spends roughly half her time caring for patients and half working on research, teaching, mentoring and administration. "I know that I, as one person, can only do so much and can see only so many children," Terry says. "It's unreasonable to think that I alone can do as much as if I find ways to train and mobilize a workforce and develop programs and services that are effective and culturally appropriate for children."
Terry's commitment to the well-being of her young patients is immense. "My passion has always been to help every child have access to quality mental health care," says Terry. "There must always be outstretched hands within a suffering child's reach."