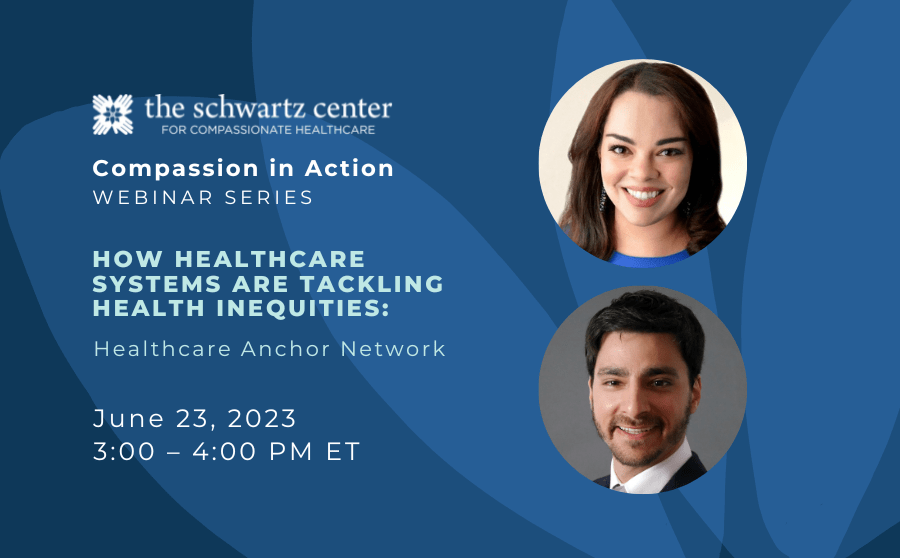 How Healthcare Systems Are Tackling Health Inequities:
Healthcare Anchor Network
June 23, 2023 | 3:00 – 4:00 PM ET
The complex social structures, economic systems, and policies that affect quality of life have a far greater impact on health than the care we provide inside the walls of our healthcare facilities. In this webinar hosted by Schwartz Center Chief Medical Officer Dr. Beth Lown, David Zuckerman, president of Healthcare Anchor Network and Nathalie Rosado Ortiz, system manager of Anchor Mission and Community Engagement and Rush University System for Health, will discuss the impact of these social determinants and structural violence on health and how Healthcare Anchor Network evolved to address these conditions in collaboration with healthcare systems across the country. You'll learn how this work made a difference for a Chicago community and healthcare system during the pandemic and beyond. We will explore practical approaches that you can use to promote health equity.
REGISTER NOW
---
VIEW PAST WEBINARS
The Compassion in Action webinar series is funded in part by a donation made in memory of Julian and Eunice Cohen. The series is free of charge to all members of the public. All Compassion in Action webinars will be archived here following the live broadcast.