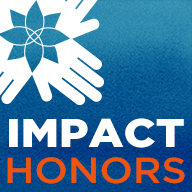 The Corman IMPACT Honors celebrates Schwartz Center healthcare members who are making a transformational impact on their organizations or systems by creating programs or initiatives that promote compassionate, collaborative care.
We know that leading by example is the most effective way to inspire others to make compassionate care a priority and we want to recognize our healthcare members who are doing that.
The Corman IMPACT Honors are made possible through the generous support of Steve Corman in memory of his late wife, Betsy.
2022 Corman IMPACT Honorees
Watch this year's incredible honoree panel moderated by Schwartz Center CMO Dr. Beth Lown, where Tejal "TJ" Patel, Esq., CPHRM from Cedars-Sinai Medical Center; Frances Oliver from Te Whatu Ora Health New Zealand, Te Matau-a-Maui Hawke's Bay; Heather Mayer, RN from Oregon Health & Science University; and Liisa Kuuter, MSc (MFT), RP from Sunnybrook Health Sciences Centre share about the programs making an impact at their organizations.
Thank you to all the Schwartz Center healthcare members who shared their programs.
If you have questions regarding the Corman IMPACT Honors, please contact Angelina McCoy at amccoy@theschwartzcenter.org.