The Healing Healthcare Initiative (HHI) is a senior leadership team education and support program for organizational change. HHI will guide healthcare leaders to reimagine how the workplace can better support their health workers' well-being, so they can focus on delivering equitable, compassionate patient care.
The Healing Healthcare Initiative is focused on solutions, not silos– supporting and empowering healthcare leaders with resources and tools to ensure that their organization, workforce, and patients can continue to thrive.
This pilot program, launching in January 2023, will focus on:
Community: Through cohort meetings, Schwartz Rounds®, and expert-led sessions, we create a community among healthcare leaders to share and learn best practices and drive long-term, sustainable systems change within organizations across the country.
Learning: Through online education, learning collaboratives, leadership learning sessions, and mentorship, we support healthcare leaders in working within teams and across departments to co-create comprehensive solutions for a thriving environment, culture, and workforce.
Action: Through team-building sessions and implementation planning, we supply health leaders with the tools they need to identify and implement the right solutions for their workforce, break down silos, and improve organizational efficiency to enhance the experience for all who provide and receive care.
The initiative will equip healthcare leaders from six organizations in developing and implementing a roadmap for their organization to ensure their organization, workforce and patients can continue to thrive. The organizations include:
Children's Minnesota – Minneapolis, MN
Cincinnati Children's Hospital Medical Center – Cincinnati, OH
Denver Health – Denver, CO
New York City Health + Hospitals/Elmhurst – New York City, NY
TIRR Memorial Hermann Hospital – Houston, TX
University of Arkansas for Medical Sciences (UAMS) Medical Center – Little Rock, AR
If you have any questions, email us at membership@theschwartzcenter.org.
The Healing Healthcare Initiative has been developed and is offered with the generous support of the Brave of Heart Fund.
FAQs
For more than two decades, we have created renowned programs like Schwartz Rounds® to support the mental health and well-being of the healthcare workforce. Now, we're calling attention to the needs of healthcare leaders facing unprecedented challenges. The healthcare industry is facing a crisis: Employees are exhausted, burned out and demoralized. Many are experiencing traumatic stress, depression, and anxiety. In addition to harming their own mental health and well-being, this has serious implications for their patients' experiences and outcomes, organizational efficiency, and employee retention. While these issues existed prior to 2020, the pandemic and renewed calls for health equity and racial justice have further heightened the urgent need to address them.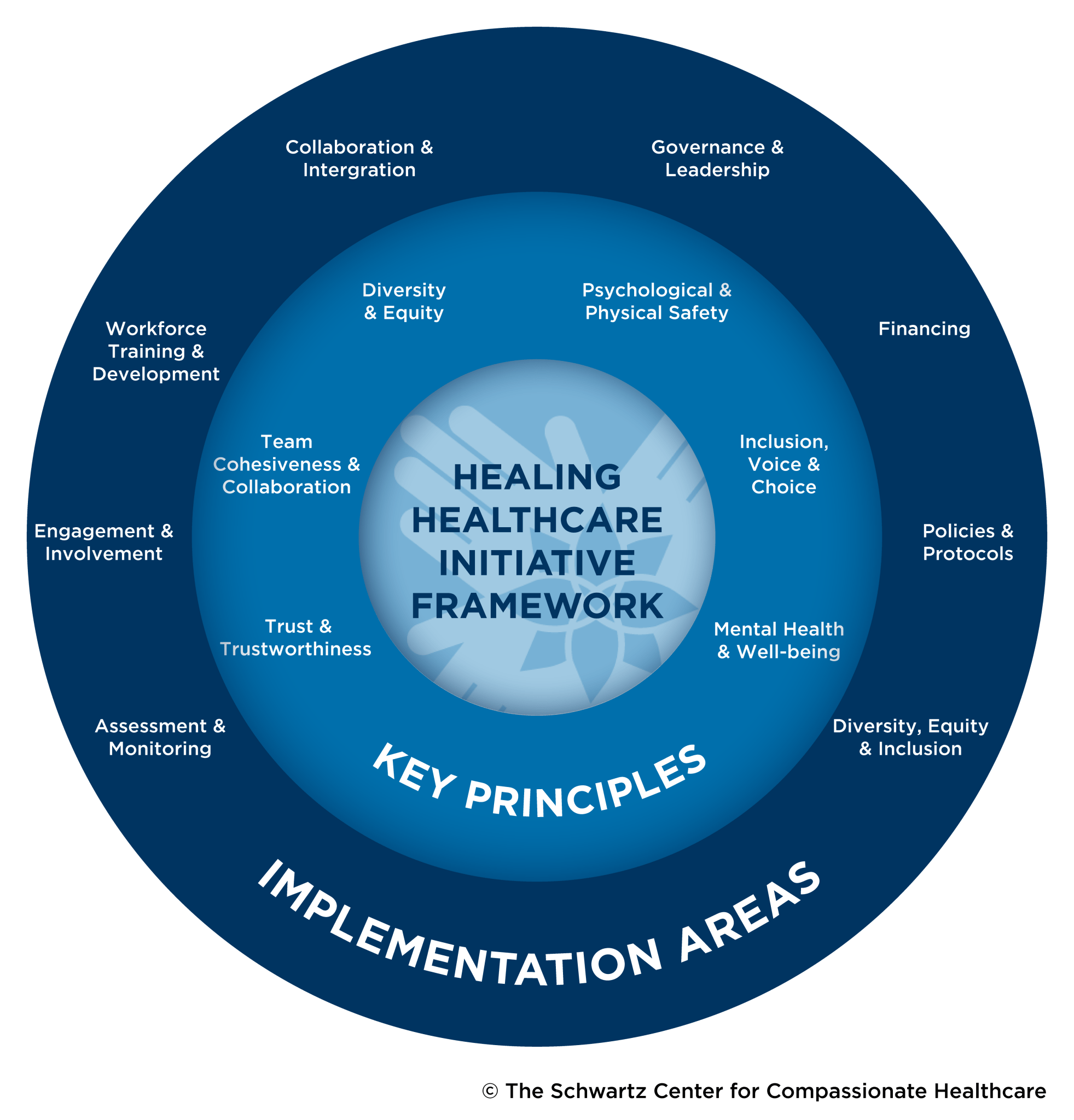 The Healing Healthcare Initiative is rooted in six key principles essential for a health system to deliver quality, compassionate care by a thriving workforce.
Building on the principles of trauma- and resilience-informed care, the HHI Framework gives leaders practical tools based on several key principles:
Diversity and Equity: Promotes equity by identifying, addressing and dismantling all forms of structural discrimination and racism.
Inclusion, Voice and Choice: Ensures inclusion by involving its health workers indecision-making and creating solutions.
Mental Health and Well-being: Values its health workers' mental health and well-being by reducing stigma, investing in programs and addressing systemic barriers.
Psychological and Physical Safety: Protects its health workers and patients by creating a safe, trusted environment.
Team Cohesiveness and Collaboration: Fosters mutual respect, shared purpose and collaborative learning among its health workers.
Trust and Trustworthiness: Builds trust with its patients and health workers by involving them in organization updates and decisions.
The HHI pilot is a unique opportunity to make real change at your organization. The program offers unparalleled access to resources and leading experts in the Healing Healthcare Initiative Framework key principles, team building, compassion, and implementation, all at no cost to your organization. The pilot includes:
Collaborative learning: Expert-led live online learning sessions with Schwartz Center CMO Beth Lown, MD
Team building tailored to organizational needs: Featuring leadership coach and trauma-informed care expert Ken Epstein, LMSW
Compassionate leadership community: Cohort-wide program meetings for collaborative learning and Schwartz Rounds, facilitated by Schwartz Center staff
Guidance from world-class experts: Including Amy Edmundson of Harvard Business School, Ron Carucci of Navalent, Karthik Sivashanker of the American Medical Association and Brigham & Women's Hospital, and others
Organization-specific implementation mentorship: From our strategy partners at Oliver Wyman
Opportunity for impact: Our partner Goodman Research Group will support Institutional Review Board (IRB)-approved evaluation research of program implementation and impact
Applications for 2023 are now closed. We will share more information in Fall 2023 when applications are open.
The HHI pilot will run from January to December 2023 and is open to all US-based Schwartz Center Healthcare Members in good standing.
HHI is a leadership team support and education program intended for organizational leadership teams with decision-making capabilities. Each team that applies must have an explicit commitment from an Executive Sponsor (your CEO, President, or equivalent) to be eligible to participate.
Although we are no longer accepting applications for 2023, you can prepare for next year by reviewing the application readiness checklist, informational webinar, and executive summary. If you have any questions, email us at membership@theschwartzcenter.org.
Health workers are exhausted, stretched thin and burned out at best— and at worst are anxious, depressed and suffering from traumatic stress, which is causing hospitals and health systems to experience unprecedented health worker shortages that directly impacts an organization's financial stability and the quality and safety of its patient care.
The numbers are staggering:
~60% of health workers are experiencing burnout
40% of nurses, 33% of APPs, and 24% of physicians plan to leave practice in the next 2 years
It costs between $40-50k to replace a nurse and $500k-1M to replace a physician
213% increase in hourly rates for travel nurses in 2022
~$3M can be saved by hospitals for every 20 travel nurses eliminated
71% higher likelihood of medical errors among nurses with poor mental health
78% of physicians reporting medical errors also reported symptoms of burnout
This can feel overwhelming, and it's certainly complex.
But it doesn't have to be.
We are here to equip healthcare leaders in developing and implementing the right road map for their organization—helping to sustain their business, workforce and the patients they care for.
Each organizational team should consist of approximately six members who are from the organization's leadership team. All team members will be expected to actively participate in HHI program meetings and activities.
The Executive Sponsor (CEO, President, or equivalent) is responsible for identifying the HHI Leadership Team that participates in this program. The team members will be 4 to 6 senior leaders who report directly to the CEO or President (or equivalent) of the organization, and should include those in roles like: CEO, CMO, COO, CHRO, CWO, CXO, etc. This group will participate in all HHI programs and activities and will meet on a regular basis.
As part of the program, each organizational team will also establish an HHI Organizational Committee (HHIOC) to provide input and implementation. This committee of 10 to 15 individuals should be representative of a broad swath of roles at your organization. They will not directly participate in HHI meetings and activities.
Each organization is expected to:
Participate in the program from January-December 2023
Have buy-in from an Executive Sponsor, i.e., the organization's senior leader
Identify an HHI Leadership Team and Team Leader to participate in the program
Establish an HHI Organizational Committee (HHIOC) to get input and guidance from a broad swath of staff members who will implement projects
Commit to enabling HHI Leadership Team and HHIOC members to participate in HHI
Support pilot-related research activities, including liaising with our research partners on Institutional Review Board (IRB) approval and HHI program evaluation research activities
At the program's concluding Symposium, report on the work that has been done as part of the HHI pilot
Support and sustain the implementation of any programs and policy or practice changes that arise from this work
Each individual participant is invited to:
Attend HHI Program Meetings:

HHI Kickoff (60 minutes)
Mid-Course Full Cohort Meeting (60 minutes)
Closing Symposium (TBD)
Two Cohort-wide Schwartz Rounds (60 minutes each)

Complete asynchronous online Learning Modules related to the HHI framework and key principles (3-4 hours total)
Participate in three expert-led Learning Collaboratives (90 minutes each)
Have the opportunity to meet for three optional implementation-planning sessions with a mentor from Oliver Wyman (60 minutes each)
Attend two Leadership Team-building sessions with leadership coach Ken Epstein (60 minutes each)
Support projects to embed key principles from HHI in organizational strategies, workflows, policies, and practices
Meet with an HHI Organizational Committee to get guidance and input from a broad swath of healthcare staff members who will implement projects
Participate in research activities related to the assessment of this pilot program.
The organization is the participant in the pilot program. If a member of the HHI team at an organization leaves or is otherwise unable to participate, the CEO will be asked to identify a new member to take their place.
Members of the HHI Leadership Team will be 4 to 6 senior leaders who report directly to the CEO or President (or equivalent) of the organization, and should include those in roles like: CEO, CMO, COO, CHRO, CWO, CXO, etc.
Although sites will participate in the program as a team, each team will identify one Team Leader to serve as a point of contact for Schwartz Center staff. The team will also select someone to liaise with our partners at Goodman Research Group (GRG) and the Institutional Review Board (IRB).
This pilot will be for specific healthcare sites looking to address problems and implement solutions at a site level. This is important for program assessment and data collection. For the pilot cohort, we will be working with site-level hospitals. Systems that are interested in broader HHI participation should stay tuned for opportunities beyond this first cohort.
The effectiveness of the HHI Program at an organization will rest on the commitment and resources dedicated to it.
We anticipate a minimum meeting time of 13-15 hours of program meetings over the course of the year, plus an additional 3 hours in optional meetings with mentors. Beyond the meeting times, organizations will make their own decisions about how much time to dedicate to planning and implementing this project.
We plan to share the results of program evaluation and project reports in 2024. We hope to publish our findings about how HHI can support the healthcare workforce.
Please stay tuned for additional offerings related to HHI that will be made available to all Schwartz Center Members. These currently are in production and will be available in 2023.
---
Informational Webinar