WHAT IS THE HEALING HEALTHCARE INITIATIVE?
The Schwartz Center's Healing Healthcare Initiative (HHI) provides leaders of healthcare organizations with guidance and support to ensure the care they offer is relationship-based, compassionate, safe and effective. It will give healthcare leaders the cohesive framework and practical resources they need to build a culture of resilience and inclusion at their organizations. It will empower leaders to recognize, remedy and prevent psychological distress and stress-related injuries among their staff. And it offers our leaders the support they need themselves.
WHY IS THE SCHWARTZ CENTER LAUNCHING THIS INITIATIVE NOW?
For more than two decades, we have created renowned programs like Schwartz Rounds to support the mental health and well-being of the healthcare workforce. Now, we're calling attention to the needs of healthcare leaders facing unprecedented challenges. The healthcare industry is facing a crisis: Employees are exhausted, burned out and demoralized. Many are experiencing traumatic stress, depression, and anxiety. In addition to harming their own mental health and well-being, this has serious implications for their patients' experiences and outcomes, organizational efficiency, and employee retention. While these issues existed prior to 2020, the pandemic and renewed calls for health equity and racial justice have further heightened the urgent need to address them.
HOW WILL HHI HELP HEALTHCARE LEADERS?
HHI provides a systematic and integrated approach for building a trauma- and resilience-informed organizational culture. The initiative will support leaders' efforts to unify existing programs in their organizations, as well as to identify and meet new and unaddressed needs. By using our evidence-informed framework, peer support, coaching, and other resources – all backed by nationally recognized experts in the field – participants will be able to best support their employees as well as the patients, families, and communities they serve.
HOW WILL HHI HELP HEALTHCARE ORGANIZATIONS?
Among the resources and benefits participating organizations will have access to are: guidance on implementing the HHI framework, membership in learning collaboratives, peer support and targeted improvement guidance for their leaders, access to metrics to assess progress towards organizational goals, a compassionate leadership self-assessment tool, and other tools for evaluation, dissemination, and more.
WHAT IS THE HHI FRAMEWORK?
Building on the principles of trauma- and resilience-informed care, HHI gives leaders practical tools based on several key principles:
• Psychological and physical safety and support
• Well-being, mental health and sense of purpose
• Diversity and equity
• Inclusion, voice and choice
• Trustworthiness and transparency
• Team cohesiveness and collaboration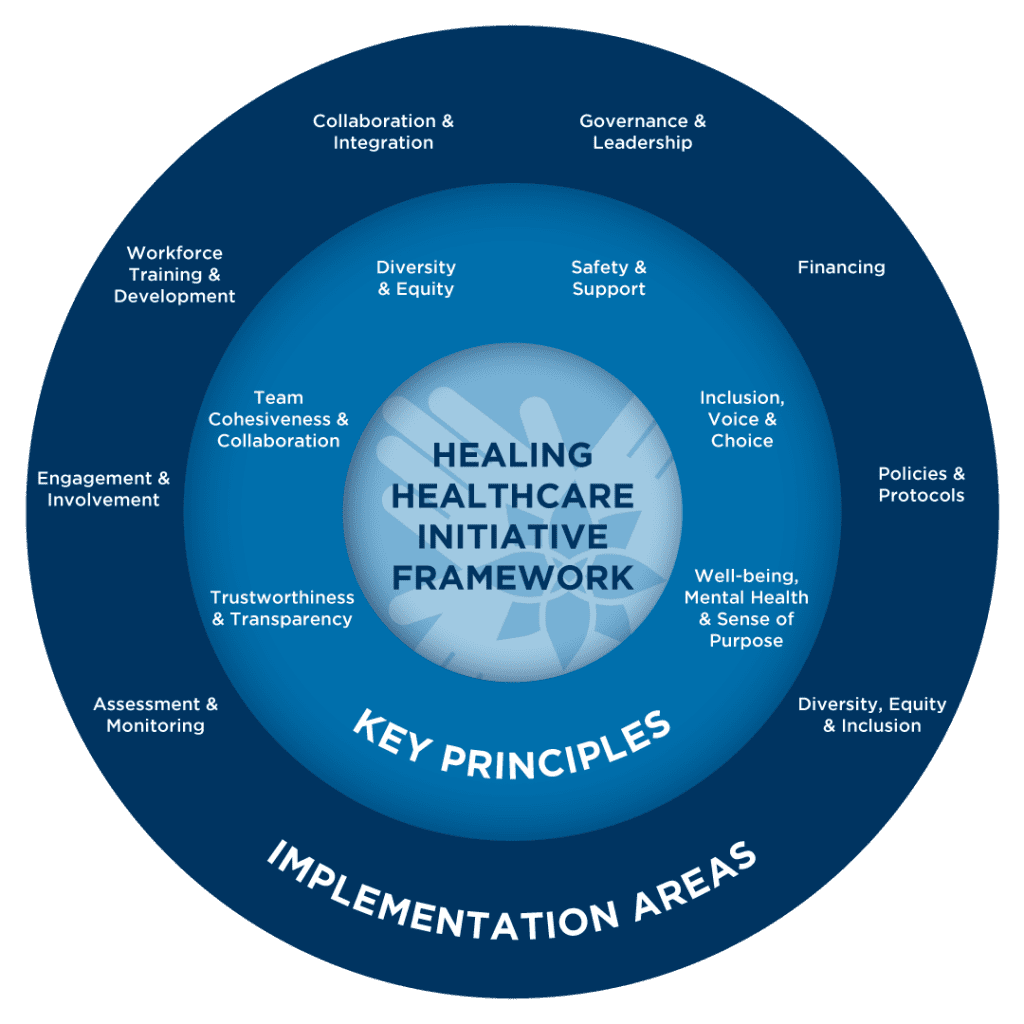 HOW CAN I GET INVOLVED?
We will be introducing HHI to Schwartz Center healthcare members over the coming months. If you're part of a Schwartz Center member organization and would like to learn more about HHI, please fill out the form below.
HEALING HEALTHCARE INITIATIVE INQUIRY FORM