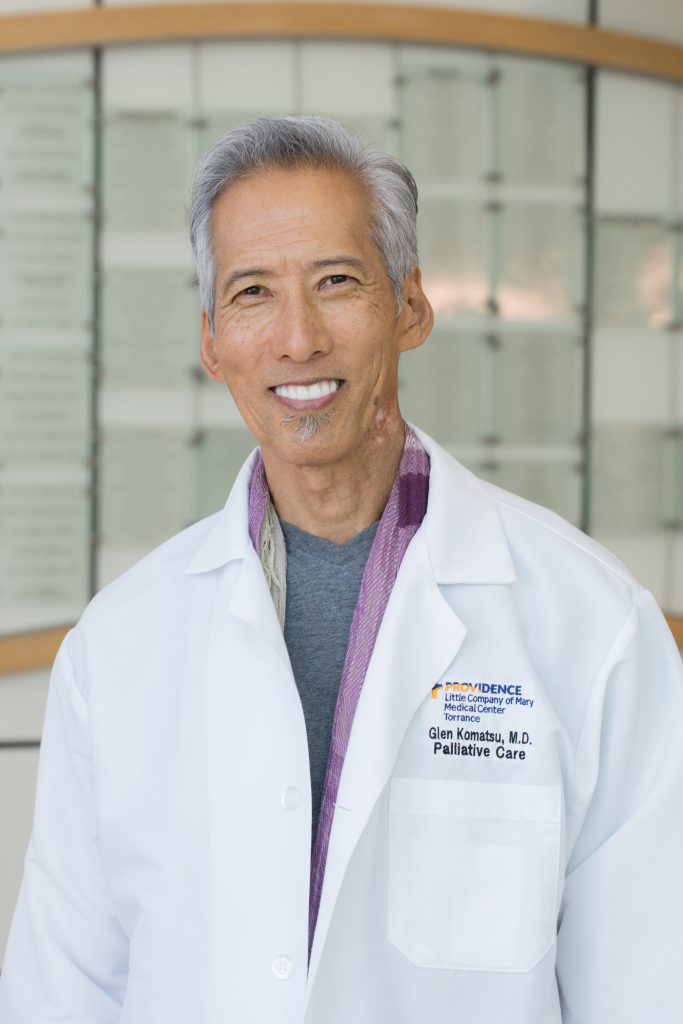 Glen Komatsu, MD
Providence St. Joseph Health
Decades into a successful career as a neonatologist, Glen Komatsu, MD, became increasingly disturbed with a medical culture that fought to save every life without attention to the quality of that life. Searching for a more humane way to tend to the needs of his seriously ill young patients and their families, he discovered his true calling, palliative care.
Dr. Komatsu moved to Boston to pursue a year-long palliative care fellowship at Harvard. When he returned to California, he devoted his work to changing healthcare by extending the principles of palliative care into mainstream medical practices in ways that address the experiences of patients from acute care to palliative care and hospice.
"Although we cannot cure our patients, we just need to keep showing up, showing that we're not afraid to walk by their side, no matter how bad things get," says Dr. Komatsu.
Today, he is the regional chief medical officer for palliative care at Providence St. Joseph Health in California, and the medical director of TrinityKids Care in Los Angeles, the only dedicated pediatric hospice program in the region and one of the largest pediatric hospice programs in the country. Dr. Komatsu has worked tirelessly to expand the palliative care and hospice services in the region, including establishing Iyashi Care, a culturally sensitive palliative care program for Japanese Americans and Japanese-speaking older adults.
His own personal experience with cancer brought him to reflect on the fragility of life and the sacredness of relationships. Following his illness, his healthcare system established an endowed chair – the Thousand Cranes Chair – to enable him to pursue the work of supporting caregivers. In his words, "To do exemplary work, we need an exemplary workforce." His view is that caring for and supporting caregivers is central to that and he has introduced a wide range of wellness-oriented programs to his organization. Dr. Komatsu has become a "Search Inside Yourself" trainer to bring mindful practice to his workplace, and he intends to establish a palliative social work  fellowship as well as a palliative chaplaincy fellowship. The impact of his work runs wide and deep.
"Glen recognizes that the best healthcare is never one size fits all. He practices, trains and mentors doctors, nurses, social workers and chaplains to know their patients as whole persons, dedicating much-needed attention to patients' emotional, social and spiritual well-being as well as their medical needs," said one colleague.
Cited by many for his humble nature, Dr. Komatsu says, "Those of us who have this privilege are ordinary people who have the opportunity to do extraordinary work. Although we cannot cure our patients, we just need to keep showing up, showing that we're not afraid to walk by their side, no matter how bad things get."