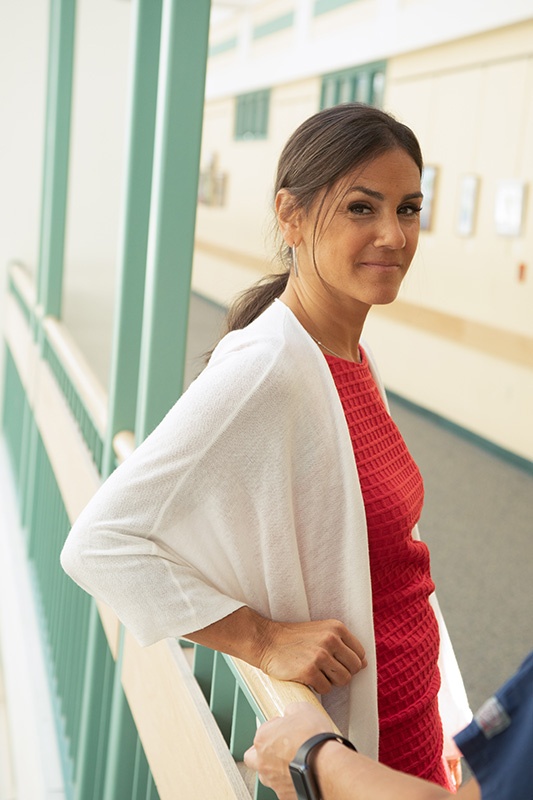 Kari Rosenkranz, MD
Dartmouth-Hitchcock Norris Cotton Cancer Center
Lebanon, New Hampshire
Sitting in a hospital waiting room while a loved one is undergoing surgery is a time of high anxiety under any circumstances. For one family on a September afternoon in New Hampshire, it became a nightmare when, in a horrifying scene that seems straight out of a movie, the search for an active shooter prompted their evacuation while their family members stayed behind in surgery. Fortunately, the surgeon was Kari Rosenkranz, MD.
Dr. Rosenkranz is the medical director of the Comprehensive Breast Program at the Dartmouth-Hitchcock Norris Cotton Cancer Center (NCCC), where she has a reputation as not only an exceptional clinician, but also an empathetic provider who is deeply devoted to the emotional and physical well-being of her patients. Sincerely humble, she is known by others for her stellar blend of compassion and medical skill, her empathetic nature and ability to reassure, traits clearly valuable in this crisis.
After five fear-filled hours, the family received a call from Dr. Rosenkranz from inside the operating room letting them know their wife and mother was fine. Throughout the extremely stressful event, Dr. Rosenkranz kept her team focused, completed the surgery and stayed in the OR for 90 more minutes keeping a watchful eye on the patient until the emergency alert ended and the lockdown was lifted.
It is no surprise that she would carry out her role despite such traumatic circumstances. She calmly reassures patients and families every day as they cope with the traumatic news that they have cancer. As one colleague put it, "Kari is not just her patient's doctor; she is their friend, advocate and sounding board. To say that her patients love her does not do justice to their relationship."
That compassionate demeanor carries over into her role as associate chair for education for the department of surgery, and associate program director of the general surgery residency. Noted by a fellow program director, "Kari had the unique and uncanny ability to empathize with surgical residents who were struggling, while at the same time identifying their weaknesses in a way that allowed them to understand them."
In her own words, "Compassion is not rote, a mechanical or memorized component of a medical curriculum. It is like our breath, driven by an unconscious but critical drive that is essential to our survival."