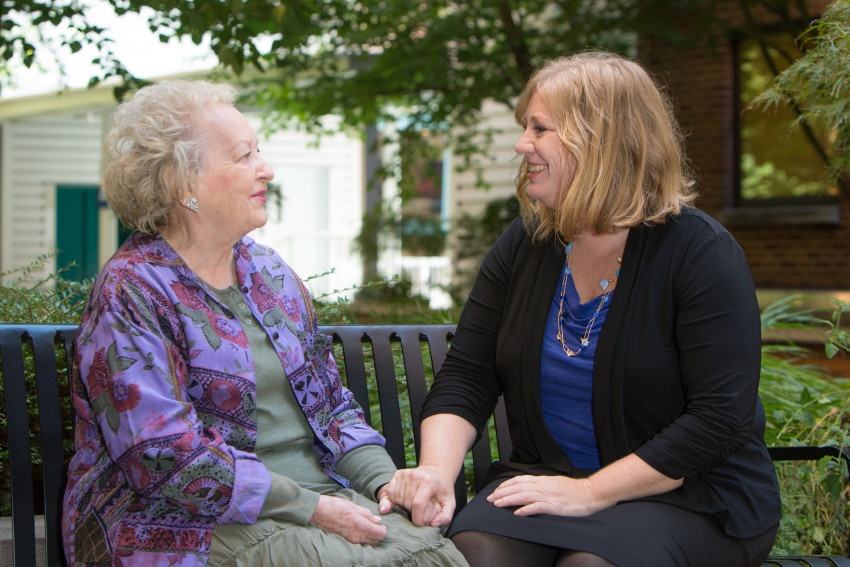 Krista Nelson, MSW, LCSW, OSW-C
Providence Cancer Center
Portland, OR
Although caring for patients who face challenging diagnoses can be emotionally demanding for caregivers, oncology social worker Krista Nelson has discovered that finding laughter and joy in each experience ensures that everyone involved approaches challenges with more compassion and understanding. Krista reminds caregivers and patients to celebrate any "win," big or small, and works hard to bring a positive, joyful attitude into each interaction.
"I fell in love with my job because it allows me to fight social injustice and inequalities, and it also allows me to get to know each patient personally and support them through their journey," says Krista.
The foundation of Krista's work can be summarized into one word: connection. Connection with patients, their families and her colleagues is what brings her joy and sustains her efforts. In her role, she provides individuals counseling, facilitates support groups and organizes retreats. After experiencing the effects of cancer on patients' families, Krista helped with the development and coordination of a program for children who have a parent with cancer.
"She finds power and strength in her patients. She works with them to maximize their strengths so they may achieve their hopes and dreams." 
Outside of work, Krista's time is dedicated to serving others on a global scale. Krista and her team have shared the model they developed for supporting children of cancer patients with doctors from Japan, who now use the model to heal tsunami victims. Each year Krista travels to a clinic in Haiti and conducts the Schwartz Center Rounds® program, providing emotional support for caregivers from both Haiti and the U.S. Krista is also active in several professional organizations, and has previously served as the president of the Association of Oncology Social Work and as an invited director of the American Psychosocial Oncology Society. Currently, Krista serves as an invited director on the Board of Directors of the National Accreditation Program for Breast Centers and as a director of the American Clinical Social Work Association, where she advocates for compassionate care.
"I love big picture thinking with passionate colleagues around the world in order to enhance the care for those we serve daily," says Krista.
Krista gives the same type of support to her colleagues as she gives to her patients, and feels honored to support the caregivers who are her teammates. Through her counsel, Krista's team processes their often complex experiences and emotions so they can continue to provide the best possible quality care to the next patient they encounter.
"I have many moments of joy and laughter, and have the opportunity to learn how to live from these stories and those I serve," says Krista. "I am reminded of the courage and strength of all of the individuals I have met, and live my life to the fullest due to them."