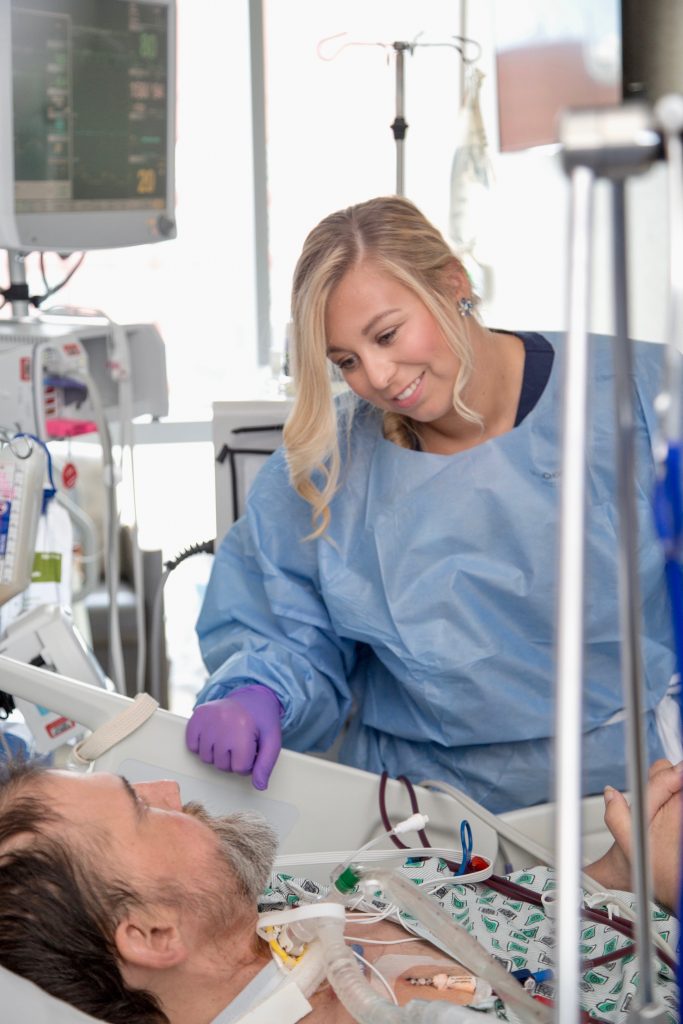 Medical Intensive Care Unit (MICU)
The Ohio State University Comprehensive Cancer Center – Arthur G. James Cancer Hospital and Richard J. Solove Research Institute (OSUCCC – James)
Columbus, OH
Crystal Perry, RN
Lauren Sander, RT
Lauren Goodman, MD
Cathy Disher, Chaplain
Chris Rizzo, RN
*These five caregivers are representatives from the OSUCCC – James MICU team, which is comprised of more than 50 caregivers who provide compassionate care to patients and families they serve.
Compassionate care takes extraordinary teamwork and comes in many forms, especially when it involves caring for the most fragile patients. It is in this clinically demanding environment that team members of the multidisciplinary Medical Intensive Care Unit (MICU) at The Ohio State University Comprehensive Cancer Center – Arthur G. James Cancer Hospital and Richard J. Solove Research Institute come together and do just that.
The James MICU is a 12-bed unit that cares exclusively for critically ill cancer patients. The team has learned that compassionate care is not only the grand gestures—it also involves smaller gestures that may otherwise go unnoticed but matter immensely to patients and their families. Things like painting the toenails of a teenage girl; turning a pillow to the cool side for a patient transitioning to comfort care; holding the hand of a young man to calm his fears of being intubated; singing Elvis songs with a patient who has dementia to help overcome respiratory failure; or setting up a video chat for a young mother to talk to her children at home.
"The team spirit on this floor was seamless and we were privileged to experience this outstanding care. Not only did they save my husband's life, but they did it as an outstanding and multi-layered team. We will never forget the truly astonishing and heart-filled care that we experienced in the OSUCCC – James MICU."
"The MICU team is a rare and exceptional group of critical care professionals that understand the importance and meaning of the human touch, taking time to listen, seeing the person as an individual, and providing honesty while exuding warmth and caring," says a colleague.
A poignant example of the team's dedication and personal connection to its patients is the time Chaplain Cathy Disher volunteered to ride in the hospital's 100-mile bike ride cancer fundraiser, even though she had never ridden anything but a stationary bike. Her motivation was a very special 19-year-old patient, who was in the MICU for 60 days after experiencing a rare side effect of treatment for leukemia. Cathy succeeded in completing the century ride in tribute to this special patient.
The team has also developed a remarkable peer support network to aid each other in dealing with their emotions, enabling each member to provide an even higher level of care to patients and their families. Further demonstrating this commitment is the MICU's participation in Schwartz Rounds™. This has allowed them to share and further improve upon their efforts toward compassionate care with not only their direct team members, but with staff from all units of the medical center.
To this team, technically complex care will never replace the healing power of a simple act of kindness.