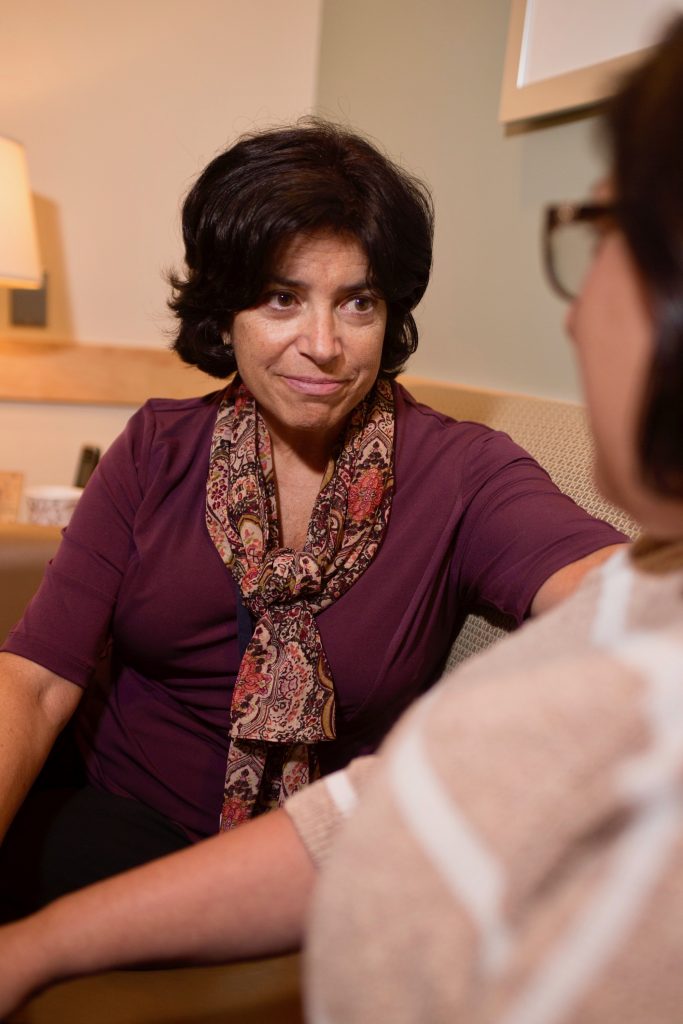 Randi Kaplan, LMSW
Montefiore Health System
Bronx, New York
"I remember running aimlessly through the corridors of the hospital. My mom was a patient in a world-renowned cancer center where I felt invisible," said Randi Kaplan, as she reflected on her 17-year-old self. "In retrospect, I was hoping to be caught by someone in those halls who would listen to my aching heart."
Today, Randi is that person to countless family caregivers seeking emotional support and comfort as they navigate the stress, anxieties and challenges of providing care to a loved one.
As a social worker, director and co-founder of the Arthur D. Emil Caregiver Support Center at Montefiore Health System in New York, Randi and her team have turned her vision into a reality. Her goal was to create an oasis for caregivers, a safe and non-judgmental refuge that would look and feel distinct from anywhere else in the hospital, so that the second people walked through the door, they would notice a different quality in the atmosphere. The center is the first and only one of its kind in any major academic teaching hospital in New York City, and is adorned with a calming waterfall, artwork on walls and soft blankets on couches. Multiple rooms in the center serve as safe havens to rest, sip a hot drink, casually talk or engage in an emotional conversation with Randi or a volunteer.
"If you don't find us, we will find you," says Randi. "Our volunteers literally scour the halls. They go to all the waiting areas. They visit the nursing units on a daily basis. And we find people and tell them about our service. Doctors and nurses are also sending families down to us. That's how our center is filled up on an everyday basis."
When the center opened in April 2010, the staff wasn't quite sure what to expect, but they were ready. Randi knew this because everything in her life had prepared and led her to this place.
"The word I hear most about Randi from caregivers, patients and staff is angel. Randi works with her heart – it is like having your oldest, most trusted friend next to you during your greatest time of need."
"My own experience had taught me what shock felt like. I knew the paralyzing grip of grief. I knew all too well how one clings to hope in the face of death," says Randi. "I understood that while no one could actually stand in my shoes, when true compassion was present, when surrounded by loving kindness, the intolerable did in fact become more bearable."
It was with this mindset that Randi co-founded the center, built its training curriculum and recruited a diverse team of volunteers who run the gamut from former investment advisors to a retired police sergeant, nursing home aide, union leader and teacher. Whatever the need, Randi and her team were prepared to provide compassionate care for everyone who visited the center.
Montefiore, located in one of the most impoverished communities in the country, serves a population with complex social and medical needs. When serious illness strikes, the center is poised to take care of individuals and families now facing the enormity of navigating a challenging environment with oftentimes limited resources, in addition to the emotional burden of caregiving.
Randi and her team also support Montefiore's clinicians who view the center as salvation. It has become a central hub where healthcare professionals from all disciplines—surgeons, audiologists, ICU nurses—are now regularly finding refuge and comfort at the center, some meeting with Randi to receive support with their personal caregiving challenges.
"Randi eases people's anxiety almost instantly with her warmth and honesty, along with a carefully honed sense of humor," says a colleague. "It is magical to witness."
At any given time, Randi can be found counseling a family, preparing coffee for an exhausted spouse, and making sure people have a place to exhale. There may be a need for silence or lots of talking or even planning festive moments. Randi offered to help arrange a wedding in the hospital for one of her critically ill patients and was able to secure a reverend to officiate. Her patient asked her to be the maid of honor, which is illustrative of the strong connection Randi has with her patients.
Some of those who sought her support have been so inspired by Randi's compassion that they have become supporters for other caregivers as well. More than four years ago, Dave called the center after his wife, Janet, was diagnosed with pancreatic cancer. Randi stayed with their family while Janet was having a 10-hour surgery, and offered them the privacy of a comfortable room, food and drink as well as the opportunity to speak with her whenever they needed to. The day lasted well beyond the time Randi was supposed to be at the center. She waited until the family saw Janet at the end of the surgery. Throughout Janet's recovery in the hospital, Randi would visit and provide her the comfort of warm smiles, hand squeezes and quiet conversation.
"Randi's commitment to patients and families goes beyond her work at Montefiore," says Dave, who shortly after Janet's diagnosis became a volunteer at the center himself. "She has visited them at other facilities, has provided support at funerals and remains in phone contact with many caregivers and their family member after her normal working hours."
To Randi, this is not simply a job, but a calling.
"It's a privilege to be invited into the lives of others, especially when they are at their most vulnerable and overwhelmed," says Randi. "I want them to know they are a person, not just one more patient in a large institution. My aim is to make people feel valued, cared about, less invisible."