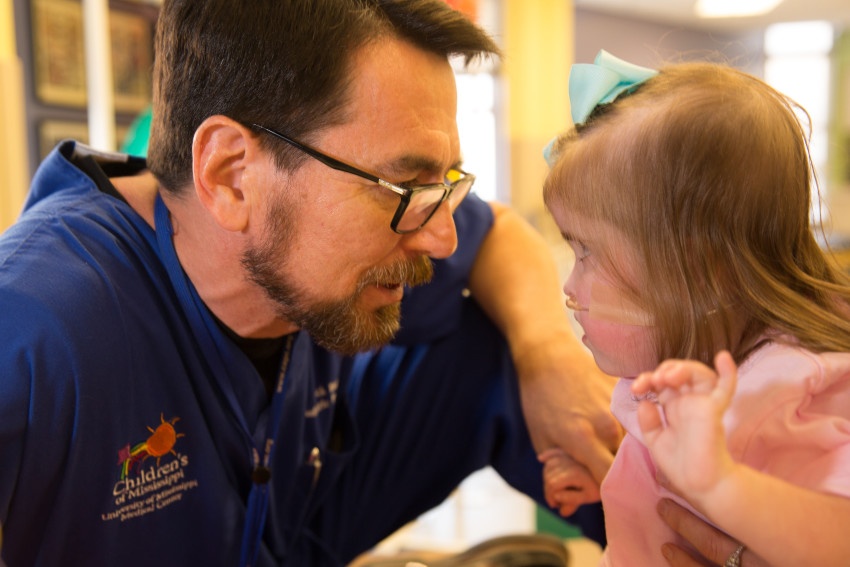 Rick Boyte, MD
The University of Mississippi Medical Center
Jackson, MS
Those who witness the care Rick Boyte provides his patients, experience the compassion he has for the children and their families, and feel the camaraderie he shares with colleagues, can immediately understand the special bond he has with patients, their families and care teams.
As a physician and the division chief of pediatric palliative medicine at Batson Children's Hospital in the University of Mississippi Medical Center, Rick is not only interested in the science and technology that could be afforded each child, he strives to equip families with all they need in order to cope with their child's complex and fragile condition, no matter what the outcome.
"From starting the PICU to forming the palliative care team, from chairing the Ethics Committee to leading Schwartz Center Rounds® program, and from teaching medicine to modeling compassion—he seeks out the needs of others and gives of himself so willingly," says a resident.
"Dr. Boyte is the most selfless and caring person I've met. He cares more about patients than protocols and more about residents than research. Here is someone I could learn from—here was a man worth emulating. Many doctors can claim to have saved a life—very few can say they healed another's spirit."
Rick consistently treats each child as if they are the most important one in the world. And it was no different the time when an expecting couple received devastating news that their baby girl had a very rare birth defect with a poor prognosis. Rick met with them immediately and discussed the best and worst possible scenarios for their daughter. Together, they decided to focus on quality of life, no matter how long or short it might be.
"Dr. Boyte walked with us on this life-changing journey. He was not afraid to be there for us during our darkest days of planning her funeral and deciding where we would want her buried if she died," says the mother. "He listened to us and got to know us and our heart's desires for our precious daughter. He was sensitive to our every emotion, from joy, celebration and hope, to sorrow, grief and pain. He supported us in unimaginable ways. And I'm sure he would say he was just doing his job."
Rick was there for their daughter's birthday and continued to celebrate every milestone with the family until she was a year and half, when she became Rick's first graduate. She didn't just survive—she thrived. Today, she is a happy four-year-old little girl.
"I'm absolutely inspired by my patients and their families. They are the most courageous people I've ever met," says Rick. "They're just getting through their lives. But the love and the focus I've seen from families, from parents, the devotion they've given their children—it's just amazing."
He supports families through active listening and communication while including the families' goals, values and desires into each patient's plan of care. He has accompanied a family home with their dying child as their final wish was that she be able to die in the comfort of home. He has remained on the phone with a mother as she sat alone watching her child take her last breath waiting for the hospice nurse to arrive. He has stayed at the hospital with patients for hours to ensure a family felt supported and achieved their goal of their child dying without pain. And he has attended his patients' funerals to be there for the families.
"I'm so thankful for the privilege of working with Rick Boyte, to be a witness to his care and compassion, and experience his unwavering commitment to his patients and families," says a nurse colleague.
"I think the ability to be compassionate is within all of us," says Rick. "Over the years I have learned that compassion is often the best offering we have as humans."