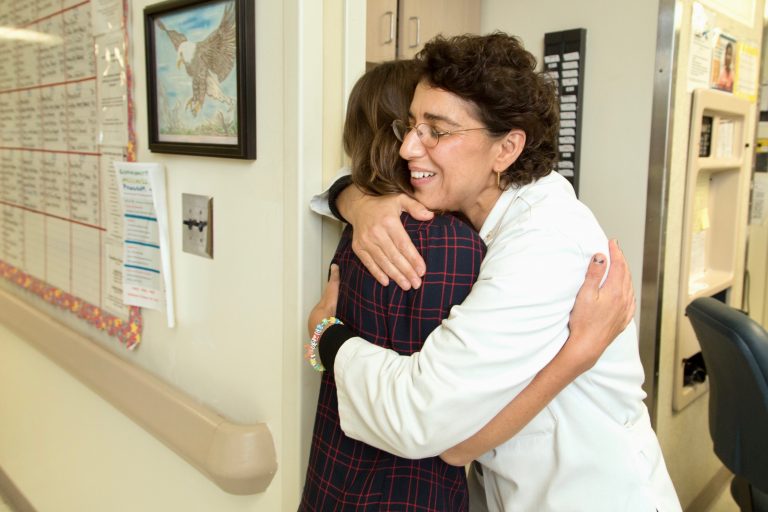 Shieva Khayam-Bashi, MD
Zuckerberg San Francisco General Hospital
San Francisco, CA
For as long as Shieva Khayam-Bashi can remember, she has always had a deep sense of connectedness to other living beings and knew she wanted to be a part of something that was supportive to life. Her father worked at San Francisco General Hospital when she was a child and occasionally brought Shieva to the hospital after hours. Inspired by her father, mother and brother, as well as other compassionate role models, she seized as many opportunities as she could during college and medical school to work in developing countries and learn the needs of people in underserved areas.
Today, Shieva practices at ZSFGH as the medical director of the hospital's long-term care facility. Shieva not only provides outstanding comprehensive medical care, but she also delivers guidance and unwavering support to her patients, students and colleagues as they navigate some of life's most difficult circumstances and transitions.
She also serves as a mentor to University of California, San Francisco medical students and family and community medicine residents by emphasizing and modeling compassionate care. She instills vital values and principles in her students through teaching and supporting compassion and spirituality in medical care and education, encouraging the use of poetry, narrative medicine and the humanities. She promotes interdisciplinary team models of care and caring for underserved communities locally and globally.
"Dr. Khayam-Bashi gives her heart and soul to every patient she cares for. She inspires her coworkers to remember our passion for healthcare and rediscover the deep meaning in our work."
"The warmth and love that Dr. Khayam-Bashi brings to our group is contagious and despite the rigor of our studies, we find ourselves more joyful and impassioned when she tells us of her patients and how fulfilling her work is to her," says a current student.
Shieva goes above and beyond for her patients and even brings her certified therapy dog, Shamzi, to provide comfort to her hospitalized patients. She also often raises funds for terminally ill patients and their families.
"There was a dying man whose only wish was to see his estranged daughter, who he hadn't seen since she was a baby. As a team, we were somehow able to track down his daughter, and all pitched in to buy her a ticket to bring her down to San Francisco with her baby so that she could see her father who she had never met," says Shieva.
Shieva spends countless hours sitting with patients and listening to and creatively addressing their concerns. She believes in patients and holds on to hope, sometimes even when patients are no longer able to believe in themselves.
"A patient who had been in a vegetative state during his treatment came back to visit Shieva, having returned to full health. He told her he remembered every word she had spoken to him and that her compassion had meaningfully contributed to his recovery," says a colleague.
"Since we are all so fundamentally connected at a very deep level, I feel that what happens to you also happens to me. Your suffering is my suffering, and your healing is my healing," says Shieva. "Since we are all in this life together, we are all connected, in our common experiences of suffering and joy and living."