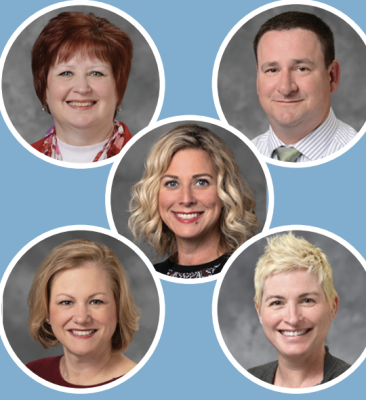 The C.A.R.E. (Caregiver Assistance Resources and Education) Program
Henry Ford Health System
Detroit, MI
Being a caregiver to a family member can be lonely, unrelenting, and overwhelming. It often strains the body, the emotions, and the soul. And as professional caregivers know, the job of tending to others is much easier if you are supported and self-care is a priority.
That's where the Henry Ford Health System's Caregiver Assistance Resources and Education Program (C.A.R.E) comes in, the only program of its type in Michigan. Launched in 2015, it provides many types of assistance and support to those caring for a loved one — regardless of whether the caregiver or the patient has a connection to Henry Ford. The program offers support groups, classes, art therapy, connections to community resources, and one-on-one navigation through the confusing world of healthcare and social services. It is staffed by experts, including licensed counselors, art therapists, and nurses, who all have first-hand experience taking care of a family member.
One caregiver who has taken C.A.R.E classes and participated in its art therapy offerings said the program has been a lifesaver. "The classes bring family caregivers together and we really care for each other. We laugh, we joke, we create, we share, we advise, and we cry," she said. "The courses have helped bring me peace of mind and an outlet for my frustration through art. I know that I am not alone in my role as a caregiver and there are people I can turn to." Class topics include safe medication practices, preventing falls, legal issues, and advance care planning. As new caregiver needs emerge, services evolve to meet them.
When it became clear that some caregivers required more extensive one-to-one help, Caregiver Concierge was born. The service provides tailored assistance and support — from a sympathetic ear to trouble-shooting a complex situation. It often serves as a gateway to participation in other C.A.R.E. programs.
Another popular offering is the caregiver binder, which helps organize the countless details of managing a loved one's healthcare, including medication lists, doctor appointments, phone numbers, and more. "The binder is gold — a godsend," said one caregiver. "Anyone can grab it and know my brother's medical history. I used to go to all my brother's doctor's appointments with him, but now he feels confident going alone with the binder."
C.A.R.E's impact goes beyond the thousands of individuals whose lives it has touched. It also advocates for resources and recognition within Henry Ford Health System, so processes can be put in place at the institutional level to acknowledge the contribution of unpaid caregivers. The program also sponsors, organizes, and leads conferences for healthcare professionals and family caregivers.
Said one participant, "The compassion of the C.A.R.E. Program team knows no bounds. During a time when society was forced to shut down, they opened up and created new connections and opportunities for caregivers. They embraced everyone, helped them through this time, and left no one behind."