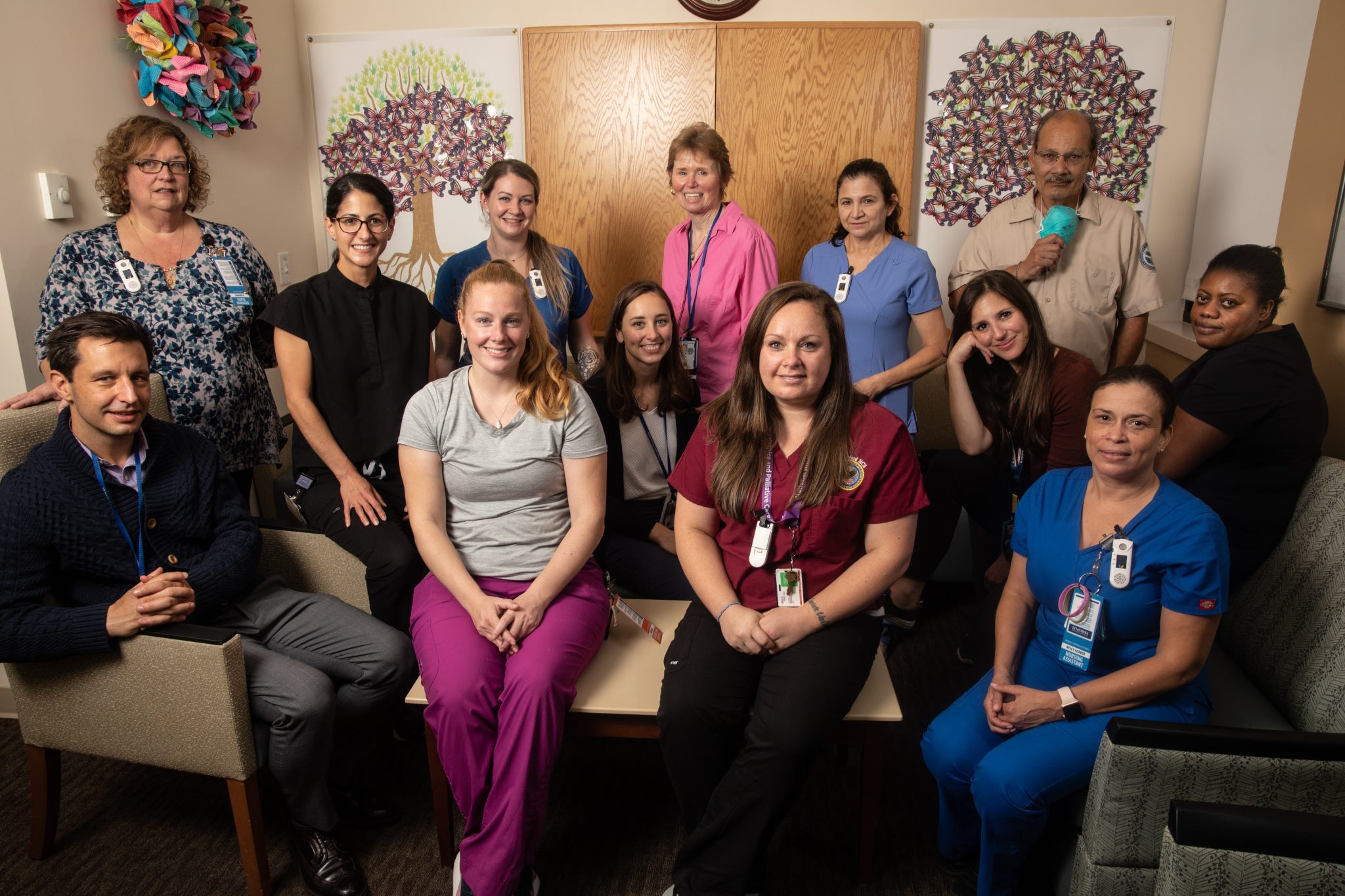 THE DAVID JAMES HOSPICE UNIT TEAM
Bedford, MA
The David James Hospice Unit Team at the Edith Nourse Rogers Memorial Veterans' Hospital in Bedford, Mass., is comprised of a wide array of caregivers dedicated to giving veterans the best possible care at the ends of their lives. The team consists of doctors, nurses, nurse practitioners, recreation therapists, social workers, chaplains, psychologists, dietitians, licensed practical nurses, and nursing assistants.
The hospice team ensures that all aspects of their Veteran's and family's needs are met with compassion, by offering education, symptom management and psychological support, as well as consultations with other disciplines outside the team. "End of life is a significant moment in one's life and we want to ensure that one's final chapter is worthy of the life they lived," said a team member. "Compassionate care expands from the mundane to the profound. It's in our daily interactions, with the veterans and their loved ones, such as holding one's hand or lending an ear when they are having a tough day, to the larger endeavors where we work to manage the veterans' symptoms, resolve unfinished business and grant final wishes."
The team implemented a "No Veteran Dies Alone" program, which is run by volunteers and staff so that every Veteran has someone by their side during their final moments. This program has received national recognition as a best practice, and was honored by the U.S. Secretary of Veterans Affairs. The hospice staff hold a "Final Salute" for each patient after their death, in which they drape an American flag over the gurney and hold a processional down the hall while playing taps. The team and patient's family members, as well as any fellow patients who are able, will offer a final salute. It is an incredibly moving experience for all who participate.
Their creativity and compassion became even more evident during the COVID-19 pandemic, which forced the team to find new ways to keep family members connected via video chat on tablets and cell phones. At times, the devices were provided by the facility, volunteers and sometimes even by the staff themselves. In a few cases, the staff worked with the family member to wear full head-to-toe PPE and sit with their loved one during their final moments to allow them to say goodbye.
"Our children witnessed firsthand the amazing care their father received during his brief six week stay," said one patient's spouse. "He was treated with the upmost respect, kindness, patience and with love. For all the staff on the unit, it wasn't just their job, it was in their hearts."
The team also takes care of each other. They have implemented team-based interventions to improve communication, promote bonding, and offer a supportive environment. They hold weekly walking rounds with the full interdisciplinary team and monthly support groups for staff facilitated by our psychologist. They also host semiannual memorial services, which offers them the opportunity to honor the patients they have lost and express their own grief.
One patient's son said, "In his service during WWII, my father was a parachute rigger. His job was to repair and pack parachutes for his fellow soldiers assuring their safe landing on the ground. In his final days, he was lucky enough to have the David James Hospice team packing his last parachute, and giving him the softest, most dignified landing he could ask for. "