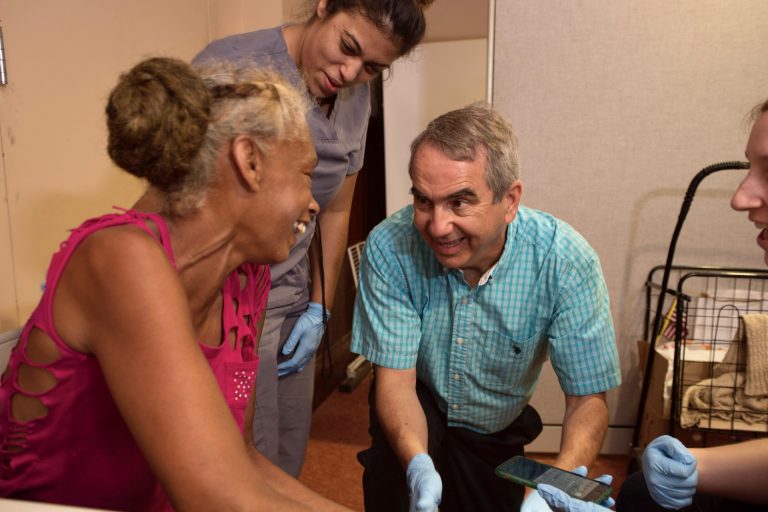 Vincent Waite, MD, MPH
Greater Lawrence Family Health Center
Lawrence, MA
At a traffic light Vincent Waite pulled up to two panhandlers with signs. He grabbed some loose change and rolled down his window.
"Hello, Dr. Waite!" said one woman.
He responded in kind and said, "We're giving out free lunches and personal goods under the bridge. Come on over."
This was part of a lunch delivery program offered to homeless individuals who live under and around bridges in Lawrence, MA. They are known as "rough sleepers" because they rarely enter shelters. For Vincent Waite, these people are his priority and the ones he primarily serves in his medical practice at the Greater Lawrence Family Health Center.
A mentor and doctor with training in family medicine and surgery, and a decades-long commitment to the medically underserved in the U.S. and abroad, Vincent is able to get people in the most desperate of circumstances to open up to him and take the initial steps toward trust and hope.
"Dr. Waite has made it his life's work to care with compassion and respect for the patients who might otherwise go without care, both here in Lawrence and in Ghana."
"With a quiet, respectful demeanor, Dr. Waite meets patients where they are, without judgment, whether their struggles are with drug use, mental health issues, post-traumatic stress and abuse, poverty, or not uncommonly all of these things together," says a colleague. "From that groundwork of respect, he builds a collaborative and therapeutic relationship."
Vincent first met Chuck in a soup kitchen. Earlier in his life, he had been a successful man with a family until his world collapsed when his daughter died in a car accident. Chuck became homeless and slept under a bridge, where he was everyone's protector, helping them find resources, which he denied himself. One day Chuck was diagnosed with terminal cancer. Before he passed away, he asked his family to spread his ashes across the river, which he had lived beside for so long.
"In this holy place, underneath the cathedral-like arches of the bridge, surrounded by homeless individuals, family and friends, his ashes and our tears were cast on the river in memory of a good man," said Vincent. "Chuck was brought home."
For the past several years, family medicine residents interested in international health have accompanied Vincent on his twice yearly trips to Ghana. They return with stories of great professional and personal growth, with additional surgical and diagnostic skills complemented by a renewed dedication to compassion and careers focused on service to patients most in need.
He has become an incredibly important force in the lives of those in his Ghanaian community, where he cofounded Friends of West Africa, a non-profit that provides prosthetics to amputees.
"Dr. Waite's ability to connect with some of the most downtrodden among us, to instill hope into lives that sometimes feel hopeless, to acknowledge the value that lies within each individual no matter their background or standing in the world, is a gift beyond compare," says a colleague.