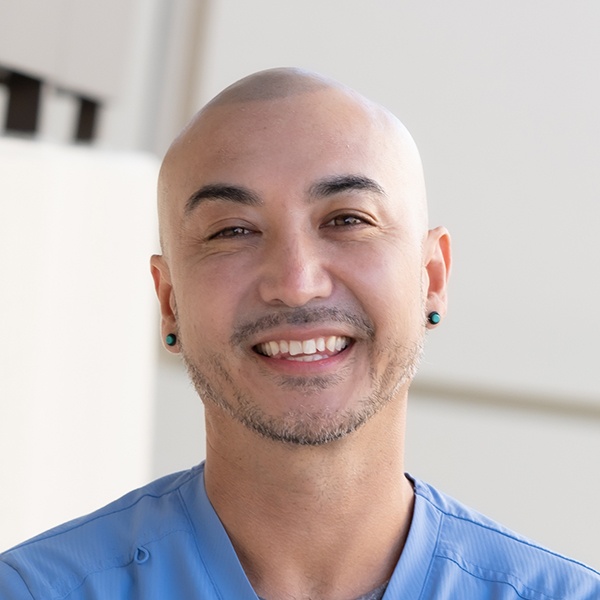 WILLIAM "DONNIE" NELSON, BSN, RN, PHN, CPHN
William "Donnie" Nelson, BSN, RN, PHN, CPHN, is a nurse manager of palliative care practices at both Saint Francis Memorial Hospital and St. Mary's Medical Center in San Francisco. In this role, he cares for some of the most complex cases and most vulnerable patients, many of whom suffer from homelessness, poverty, and substance use disorder, in addition to their physical comorbidities.
"Donnie's steadfast contribution to the community with compassionate care is honored, respected, and valued. He brings joy and relevance to difficult conversations of death and dying," said a colleague. "His insight, cultural self-awareness, and humility continue to foster collaboration in the compassionate care arena."
Palliative care is sometimes misunderstood, not just by patients and families but by healthcare workers themselves. "Too often, death is seen as a failure in medicine, so helping my colleagues get to a place of 'we didn't fail our patients' and knowing that dying is a natural process is another avenue of compassionate care," said Donnie.
Early in his career, he saw many families suffer when an elderly family member who was dying had no advance care planning completed. Due to these experiences, he started community outreach to normalize these conversations. He has partnered with a variety of community agencies and organizations to advocate for advanced care planning events and advance directive workshops.
Donnie loves to share his passion for palliative care. Before COVID, he was a guest lecturer for the University of San Francisco's nurse practitioner program in public health. He presents to first-year nursing students at Samuel Merritt to inspire new nurses to become palliative care nurses. His favorite class to teach is at City of College San Francisco's interpreting program, where he focuses on the importance of language in advanced care planning. His innovative approach recognizes the linguistic and cultural barriers that patients and families may face. "This collaboration raises the bar for our training program and helps to advance health equity for marginalized and underrepresented communities who speak limited to no English," said a colleague.
Donnie is an advocate for the most vulnerable patients, especially those who do not have family members present. He is often able to find next of kin or friends that others have not been able or willing to find, some of whom haven't seen their loved ones in decades. "We all have a story, and it is important for the medical team to remember that we are training a person, not just a diagnosis. When I complete due diligence with my team to find a surrogate, really what I was looking for is 'who knows you, who loves you,'" he said.
During COVID, he vowed that none of his patients would die alone. He worked tirelessly to implement a visitor's policy that would be compassionate while still maintaining safety standards and trained his staff to use video conferencing platforms to help family members see their loved ones. He even shared his own smartphone with elderly family members when they didn't have one of their own. In some cases, he acted as a surrogate family member and held a dying patient's hand during their last moments. "He is passionate about this work in a way I haven't seen in my 25 years of practicing hospital medicine," said a colleague.