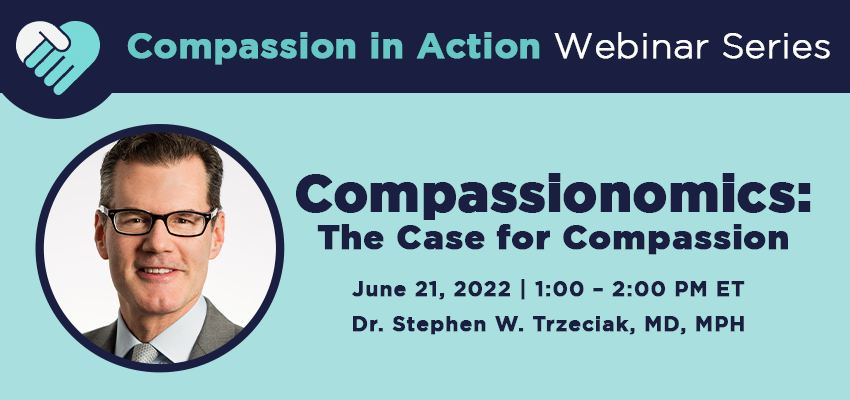 Compassionomics: The Case for Compassion
June 21, 2022 | 1:00 – 2:00 PM ET
Here at the Schwartz Center, we're devoted to advancing compassion for all who give and receive care. But why does compassion really matter? In this Compassion in Action webinar, Dr. Stephen Trzeciak, co-author of Compassionomics: The Revolutionary Scientific Evidence That Caring Makes a Difference, will explain why compassion could be a "wonder drug" for the 21st century, and for the challenges facing today's healthcare leaders. In conversation with Schwartz Center Chief Medical Officer Dr. Beth Lown, Dr. Trzeciak will share evidence that shows the vast benefits of compassion in healthcare: for patients, healthcare organizations, and the healthcare workforce.
Stephen W. Trzeciak, MD, MPH, is Chairman and Chief in the Department of Medicine and Medical Director of the Adult Health Institute at Cooper University Health Care. He is also a Professor of Medicine at Cooper Medical School of Rowan University.
---
VIEW PAST WEBINARS
The Compassion in Action webinar series is funded in part by a donation made in memory of Julian and Eunice Cohen. The series is free of charge to all members of the public. All Compassion in Action webinars will be archived here following the live broadcast.