Compassion in Action: A Q&A with Jon DuBois, MD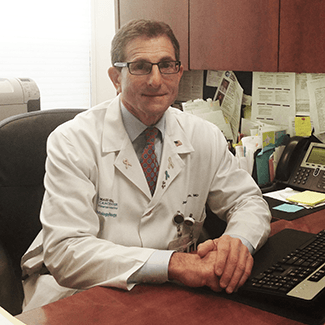 Vitals
Title: Medical Director, Mass General Cancer Center at Emerson Hospital-Bethke; Clinical Instructor, Harvard Medical School; Chief, Division of Hematology-Oncology, Emerson Hospital
Education: MD, Medical College of Pennsylvania, Magna Cum Laude; Residency & Fellowship, Tufts Medical Center
Grew Up In: Rydal, PA
Interesting Fact: As his high school's hockey team captain in 1979, Dr. DuBois was awarded the Barry Ashbee Award, a memorial scholarship the Philadelphia Flyers established in honor of the Flyers' former defenseman Barry Ashbee who died in 1977 of leukemia—a disease Dr. DuBois later dedicated his career to treating.
Schwartz Center Activities: Schwartz Center Rounds® Physician Leader, Leadership Council Member, Program Committee Co-Chair
"Compassionate care is being there in the moment for the patient. I think what is critical to the patient-caregiver relationship is the caregiver acknowledging, addressing and respecting the patient's needs and agenda, not just walking into the room to fulfill the medical or caregiver agenda." – Dr. Jon DuBois
What first motivated you to pursue a career in medicine?
While in high school, I worked as an orderly, a volunteer at the American Oncologic Hospital in Philadelphia, which is now Fox Chase Cancer Center. So early in my life, I was exposed to cancer patients and their families. I saw how challenging, yet rewarding it could be to potentially help people at a time in their lives when they needed it the most…being struck by their courage, dignity and humanity. So this led to majoring in science in college and teaching high school science before committing to medical school, and the rest is history.
What do you find most fulfilling about practicing medicine?
In medical oncology, you can really have such an impact on the human as well as medical side of a patient and their family. It's an ever-changing field that really challenges you to balance the science with the emotional needs of the patient and priority on compassionate care.
Do you have a signature way you interact with your patients?
I think what is critical to the patient-caregiver relationship is the caregiver acknowledging, addressing and respecting the patient's needs and agenda, not just walking into the room to fulfill the medical or caregiver agenda. And so you have to put the computer aside, be there in the moment for them, and connect by either holding a hand, putting your hand on someone's shoulder or looking eye to eye and saying, "How are you really doing?" or, "What did you want out of today's visit?" And then whether or not it's more for me or them, I've always offered a hug at the end of a meeting, and sometimes at the beginning. I find most people are very, very affected by that.
How do you keep yourself centered as someone practicing in a challenging field?
There are a couple of ways. One is to always hold fast to that challenge of being at the top of your game scientifically and with medical knowledge, but also always being there for the human side of your patients and families. Having extracurriculars like the Schwartz Center keeps me balanced and on some days reminds me why I do what I do. We started the Schwartz Center Rounds in 2000. I became the local champion for the Rounds as the physician leader, and that kept me involved in the Schwartz Center wanting to do more over the years.
You've been leading the Schwartz Center Rounds for 14 years now. Why do you think it has been so successful?
I feel that many caregivers are literally "starved" for the opportunity to talk about the human side of what they do. And it's the only program I know of where "caregiver" is defined as anyone impacting the life of the patient. So in our Rounds, you could have an administrator next to a surgeon next to a nurse next to a hospital volunteer. It's really a stand alone, unique environment where caregivers don't talk about the results of tests or how the patient did. They actually talk about how they felt doing what they did. And I find that critical to being a well-rounded physician and caregiver.
How do you keep your Rounds topics fresh?
It can be a challenge, but we never run out of topics or patient-related cases that represent some important aspect of the patient-caregiver relationship. As an example, pertinent to the last few months, our November Rounds topic was ebola and how it impacts the ability to build a patient-caregiver relationship. One of the better quotes from Ken Schwartz reflects on the importance of touch. At the Rounds we talked about how a caregiver can be dressed in a "space suit" without touching, but still connect with a patient. So it was a very interesting Rounds, examining how to still maintain a compassionate relationship with a patient and family while in head-to-toe protective gear.
Do you have any advice for young clinicians who are interested in pursuing a career in healthcare?
We hear a lot of very negative opinions about medicine and healthcare today. Many caregivers are frustrated with medical documentation and the demands put on them that perhaps takes them away from the patient and caregiving. The flipside of that—and it's still my opinion—is that it is still such a noble and wonderful profession. If you're passionate about caring for another human being, if it's a calling or a mission, then it can be one of the most rewarding experiences in your life or career path.
It's not a right, but a true privilege to be a caregiver. The privilege of touch, the privilege of having a patient open up their life to you. It should always be respected and never routine. And never lose your own humanity—remember it's a person in front of you, not just a disease. Being there in the moment for a patient means whether or not it's a minute or an hour, you've given them the sense that you're there for them.