Compassion in Action with Rev. Birte Beuck: Being in the moment with empathetic presence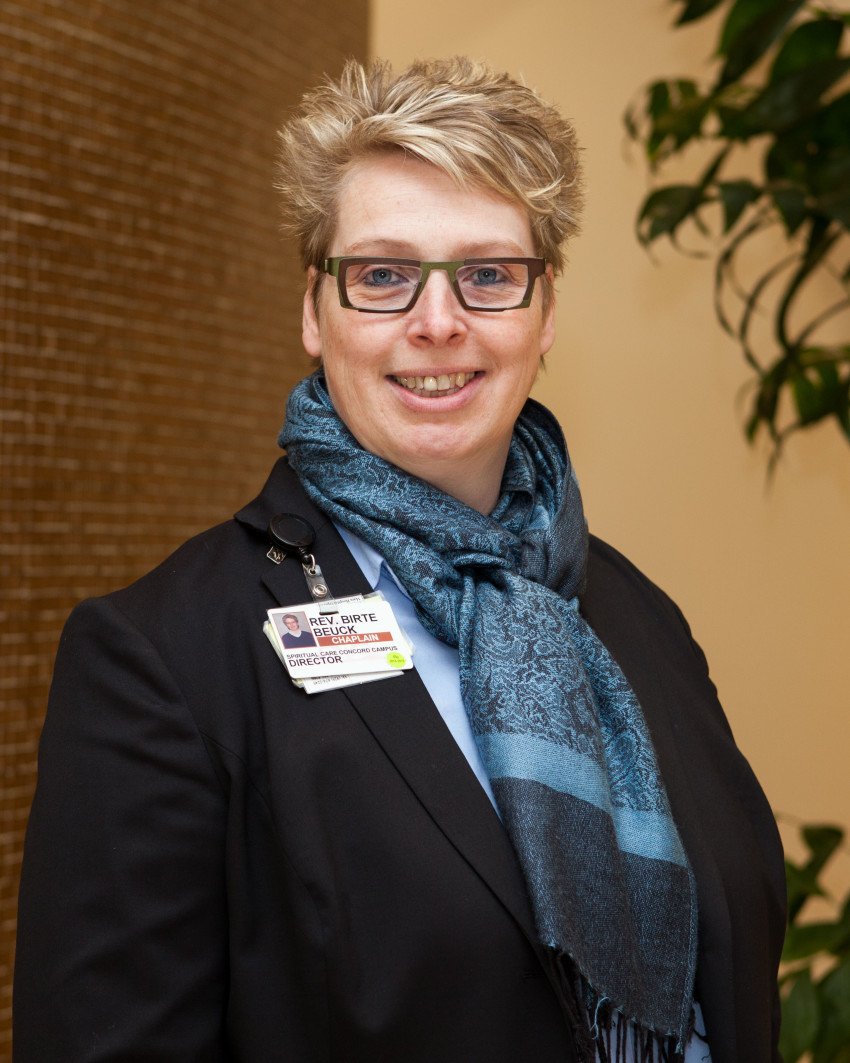 Vit
als
Name: Rev. Birte Beuck, MA, MDiv
Title: Director, Spiritual Care Services at John Muir Health in California; ACPE Supervisor (Chaplain Educator); Board-Certified Chaplain
Grew Up In: Northern Germany
Interesting Facts: In her spare time, Beuck hikes and reads and likes to ride her motorcycle. She enjoys being in the moment and leaning into the curves of the road and likens it to leaning into life and being present.
Schwartz Center Activities: Schwartz Center Rounds® Facilitator
"One of the many blessings of my work is that it reminds me that the most important and precious moment is this very moment, right now." – Rev. Birte Beuck
Creative compassion: A ticket home
The patient was in her twenties, pursuing her dream in the U.S., with a full life ahead of her. Then one day, she was diagnosed with incurable cancer. Rev. Birte Beuck recalls the time spent together with this patient in clinic and the deep bonds this young woman formed with her care team.
"She was at the hospital where I worked at the time, and was in and out for many months," said Beuck, who is now the Director of Spiritual Care Services at John Muir Health in California. "One of her last wishes was to travel back to Peru because she wanted to die at home."
It was a long way from California to Peru and the young woman didn't have any means to get back home. Beuck pulled the care team together and they devised a plan to help.
"There was an emotional rallying around her because she touched many of us," recalls Beuck. "There was also some unconventional creativity in finding resources to buy her a ticket."
They were able to get her home to Peru, where she died surrounded by family. When Beuck learned of her passing, she held a memorial service in the hospital for staff because of the lasting impression their young patient had on them.
"There are many, many patients who touch us," said Beuck. "You just never forget them, ever."
A genetic predisposition
It wasn't until after several years of being a chaplain that Beuck realized her path was like "a genetic predisposition." Beuck's father came from a family with four generations of pastors, and her mother was a pediatric nurse. There were also many educators in the family. So to her, this career was meant to be.
"It just feels right," says Beuck. "I love education and helping generations of chaplains learn is very exciting." Beuck also enjoys facilitating meaningful conversations in her role as chaplain and as the Schwartz Center Rounds® facilitator at John Muir Health, which gives caregivers a sacred space to discuss the human side of medicine and build a connection with each other.
What also motivated Beuck to pursue a career in this field was her spiritual background and religious belief that visiting and comforting the sick is a mandate.
"Being a patient in the hospital is very challenging and can be a life-altering experience," says Beuck. "I'm hoping to be of comfort to people in a time of suffering so they don't feel forsaken by others or if they believe in a God, by God. This is my spiritual calling."
Empathetic presence and compassion in action
Beuck believes that the key to providing patients and families with compassionate care is being open and willing to witness their pain and suffering, and to allow space for difficult conversations to occur. Patients and caregivers can sometimes get swept up in the fast pace of healthcare. Healthcare chaplains can help by "slowing down the process to have patients' souls catch up to what is going on, and to bring a presence that allows the whole person to come forward."
Helping patients and families tap into their spiritual resources, having a genuine human connection, and being able to provide comfort is what fuels Beuck.
"Compassion is the ability to be present with someone, to bring empathy in that moment, and an action to relieve suffering in that moment when necessary," says Beuck. "And sometimes, the empathetic presence is the action—nothing else is needed. And that's part of compassion."