Thriving with Compassion: Dr. Ritu Trivedi-Purohit's Story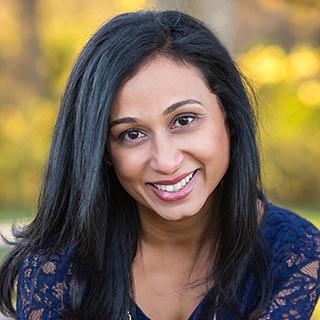 We spoke with Ritu Trivedi-Purohit, PsyD, a clinical psychologist and founder and CEO of thriveosity™, about how she came to start a social enterprise focused on improving the health and well-being of patients and caregivers through a nontraditional approach.
Dr. Trivedi-Purohit has always been drawn to compassionate care. Growing up, she knew that she wanted to be involved in medicine, but wasn't convinced she wanted to be a physician. While exploring different medical fields in school, Trivedi-Purohit says, "I was drawn to the providers who were able to sit and talk to their patients and were actively involved in patient care." That desire to communicate with patients led her to clinical psychology, and specifically to oncology, where she works with patients to help them handle the physical and emotional impacts of their diseases. However, her patients at Loyola University's Cardinal Bernardin Cancer Center affected her life just as much as she affected theirs.
Her patients' "great resilience, inner strength and drive to be well" inspired her to focus on making the lives of those impacted by cancer more manageable, says Trivedi-Purohit. She came up with the idea of thriveosity upon recognizing that both patients and caregivers were struggling to meet needs that went beyond medical care. Through conversations with her colleagues, Trivedi-Purohit found that many physicians acknowledged the challenges in meeting patients' needs beyond treatment, like side-effect management and adherence to medication, but could not address those challenges because they were "tapped with their resources and time while also struggling with how to help patients."
Dr. Trivedi-Purohit needed to find an easy way to fill the gaps in cancer care to meet patients' medical, personal and emotional needs. She conceived an idea of helping patients recover and obtain the highest possible quality of life by delivering meaningful and functional care packages that address the various needs of a cancer patient from intellectual stimulation to symptom management. She filled her packages with items chosen through research in areas where patients need the most support beyond medical care: nutrition, cognition, skin-care, aromatherapy and the basics, which include comfort items and other essentials. She says, "Each box has items to help patients manage their symptoms and feel supported in order to normalize their experience in some ways because it feels so abnormal."
Ordering a thriveosity box for a patient allows loved ones to contribute to recovery in a meaningful way. The packages not only directly benefit those receiving them, but also benefit organizations involved in cancer research and patient advocacy. Thriveosity donates portions of the proceeds from each box to organizations fighting to make cancer a thing of the past.
While thriveosity began as a way to provide greater support to cancer patients, it has expanded to include support for caregivers as well. The idea behind caregiver boxes is to make the caregiver feel supported and appreciated and to help combat burnout.
"We know that caregivers play a critical role in the entire treatment and recovery process of a patient and they really need a lot of support themselves," says Trivedi-Purohit. "It's almost like you're giving them permission to take care of themselves when you deliver something in a box to them. When we provide people with the tools and information to guide them, they will take the reins from there."
Dr. Trivedi-Purohit is also actively developing partnerships with hospitals and cancer centers to enhance their offerings to their patient populations. Hospitals see thriveosity as a way to increase their continuum of care between touchpoints, provide a comprehensive approach to treatments as well as a major point of differentiation for institutions. Furthermore, care providers and patient experience officers have requested care packages for other chronic populations such as diabetes, cardiac, surgical centers, and even for their own employees.
Through thriveosity, Dr. Trivedi-Purohit has spread the idea that dealing with and recovering from a serious illness like cancer involves more than just medication. Cancer impacts every part of a patient's life and, to combat it, treatment must do the same. As an innovative way to imbue cancer treatment and recovery with compassion, thriveosity helps with the emotional and the personal needs of a patient so that each cancer patient can practice self-care and promote wellness on multiple levels.
Learn more: thriveosity