Unconventional Caregivers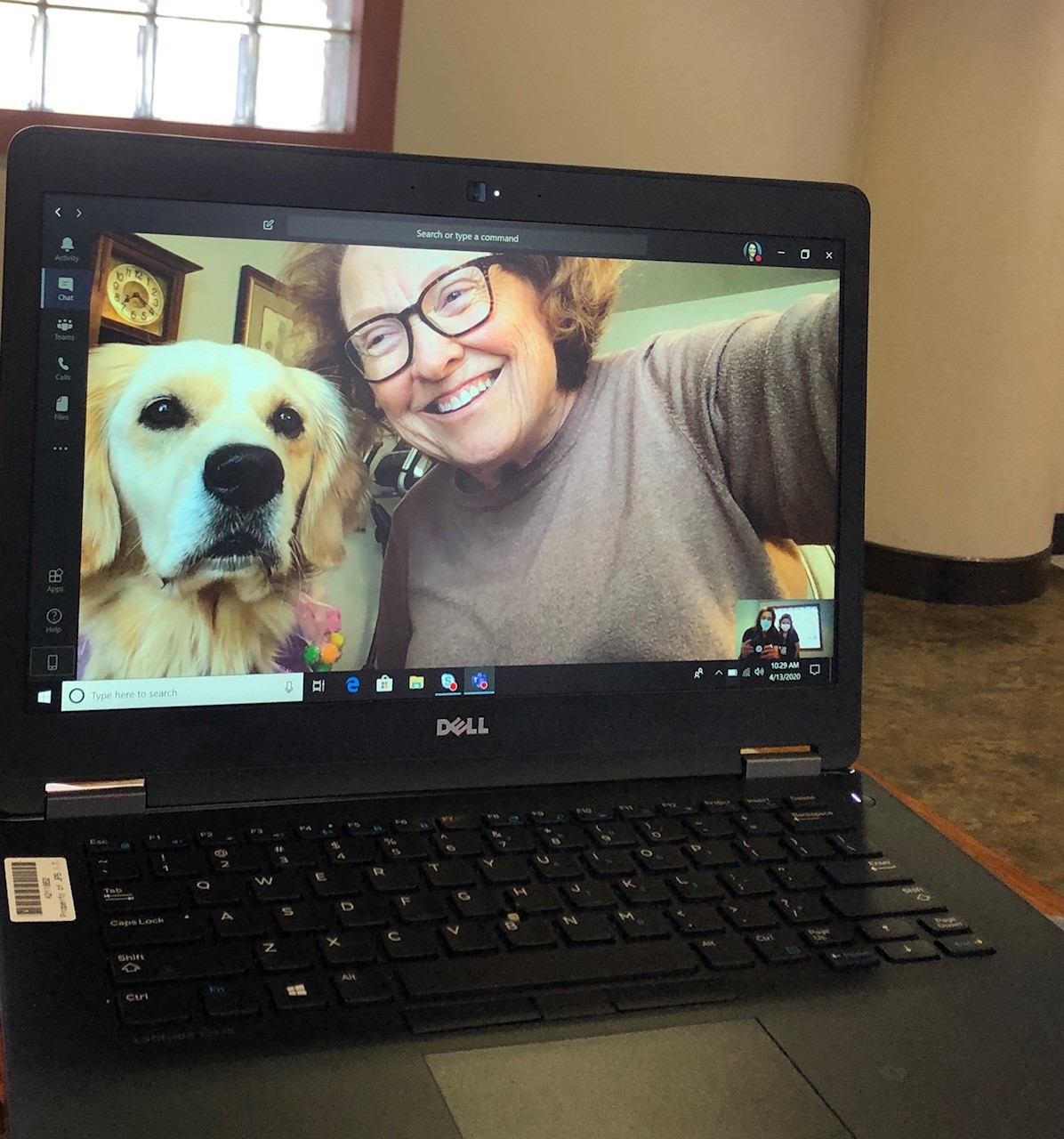 This team of two brings joy, peace and calm to all
Caregivers come in all shapes, sizes, ages and backgrounds. As Terri Lee, a volunteer at JPS Health Network (JPS) in Fort Worth, Texas, can attest, and her 4-year-old golden retriever, Peaches, can illustrate, caregivers don't even have to be people. Lee and Peaches make up a volunteer pet therapy team at JPS.
Lee is an experienced pet therapy handler who volunteers her services weekly with her family pet, and Peaches is a registered therapy and crisis response dog with Pet Partners. Together, they have been volunteering with JPS's Employee Wellness program since 2019.
Initially, they began volunteering by visiting the healthcare workers in the Emergency Department weekly at the request of Dr. Heidi Knowles who was in charge of the JPS Emergency Department Resident Wellness Program. The response from Peaches' visits to the ED was so positive that they began visiting healthcare staff in other departments and units.
"Our goal is to bring joy, peace and calm to the people we visit, allowing them to take a break from the day's stress and burdens of providing excellent patient care, and receive a little bit of strength and comfort from petting a loving dog," said Lee.
The team of two is frequently praised by JPS staff for going above and beyond to provide team members with support and taking extra time to build personal relationships with different departments.
"Terry is a reliable and friendly addition that provides our staff with unprecedented assistance and support through volunteering, and sets a high standard of excellence in how she conducts her volunteer service," shared Kim Pinter, CAVS, director of volunteer services and Katie Bonifas, engagement coordinator.
During the COVID-19 pandemic, Lee made extra efforts to support frontline team members and critical care teams throughout the JPS hospital. Since volunteers have been unable to serve directly onsite during COVID-19, Lee and Peaches became very innovative in their approach as the very first "virtual" pet handling team.
"Peaches and I do therapy visits virtually with our volunteer coordinator, Katie (Bonifas)," said Lee. "During this time, we've been asked to expand our sessions and attend team meetings within the hospital to add a little bit of cheer."
The two provide therapeutic pet sessions online and have served 14 healthcare units and conducted 20+ volunteer hours during this time.
"They brighten our day in every way. Even though we have not been able to see Terri and Peaches live, it has been so nice to have them with us virtually," said Eileen Shaw, RN.  "When there is so much more stress during these Covid times, it is nice to stop and take a break with Terri and Peaches."
In addition, Lee went out of her way to bring Peaches to JPS units and departments by donating an oversized "pop up" rendition of Peaches that includes her volunteer ID Badge.
"Their service to others comes from the heart and has made a positive impact during these stressful times," said Bonifas.
"Our morale and disposition at JPS are greater and more joyful because of the happiness and comfort Terri and Peaches bring to our lives," added Pinter. "We are delighted and honored to have them in our presence!"